Opus Trust Marketing – Enabling 100% Document Integrity for Mission Critical, Highly Regulated Document Production
Opus Trust Marketing is a leading provider of outsourced document services that creates, prints, mails and electronically delivers mission critical and time sensitive business communications such as letters, statements, invoices, pension documents, share certificates, pay slips and tax-related documents.
Opus Trust manages high volumes of critical and transactional documents, sending nearly 1,000 communications every minute on behalf of their clients – almost 1.3 million every working day for organisations across energy, water, financial services, telecoms, travel and the public sector. Operating in such a highly regulated market requires the utmost in document security and integrity, an area where Opus Trust has invested heavily through the development of their state-of-the-art, in-house job control system (JCS).

PRODUCTION INTEGRITY
As with all physical paper handling processes, paper wrecks, misfeeds, static and human error can occur at any time, resulting in missing, duplicate or out of sequence pages, which must be corrected before the documents can leave the production facility.
With new data privacy laws becoming progressively tighter and SLAs becoming shorter, Opus Trust knew that to fully mitigate the risks associated with production errors and data breaches, they had to continuously evolve and develop their internal system. They could no longer rely on paper trails following jobs, requiring the operator to manually record job statuses, progress and to check and manage job integrity.
So in 2016, Opus Trust embarked on its Auto JCS (Automatic Job Control System) project to fully centralise and automate document & mail production control throughout their operation. The new system was also key to achieving the very best postal rates for their clients through ensuring 100% mail reconciliation for every job.
We knew that automated item tracking, data collection, and reporting was going to be a minimum requirement", Said Rob Alonso, Acting CEO at Opus Trust. "It was essential that we could accurately account for every page, document and mail piece, to the highest levels of precision, throughout the entire production process from composition, printing, finishing, and inserting to final dispatch."
The Opus Trust Project Team, set to work on planning, designing and developing their new Job Control System to satisfy both their current and future business needs.
CHALLENGES
Opus Trust prides itself on selecting the best in class technology, from a variety of vendors, for their printers, inserters and finishing equipment.
Interfacing Auto JCS with a myriad of devices to get up-to-date information on jobs would be impractical, and for some devices, impossible.
Being vendor agnostic brings us obvious benefits, but has its challenges too" commented Alonso. "To track items and collect real-time production data across all our workflows, we needed to deploy camera reconciliation technology on all of our enclosing and finishing lines to ensure Auto JCS would get timely, consistent and reliable data at all times."
Also when processing transactional mail on high-speed inserters, damaged mail-pieces are an unavoidable part of the process. Automating the process of identifying the damaged mail pieces and initiating their reprint was major a requirement.
As Alonso explains, "Most of our clients have to adhere to strict regulatory deadlines for dispatching their mails, or face significant penalties. Therefore our production processes had to be very efficient, streamlined and able to recover quickly from any stoppages. We had to minimise any human touchpoints in the process as these could be expensive, time-consuming and were one of the major causes of privacy breaches."
Only by placing a barcode on every item and using a camera to scan these codes, allowed Opus Trust to collect the information it needed to enable Auto JCS to fully manage job integrity, immediately flag up sequencing errors and automatically identify any damaged mail-pieces for subsequent reprinting.
SOLUTION
Opus Trust was well aware of the variety of machine vision cameras available on the market, and that selecting the right technology would have a direct impact on the success of the project.
What we needed was a vendor that could provide the right camera technology, but more importantly had the deep industry expertise and tools to read a variety of codes accurately at production speeds," said Richard Hooper, Head of Operations at Opus Trust. "Having previously worked with Lake Image Systems, I was aware of their excellent technology and reputation in our sector, and so they were an obvious choice for us."
Lake Image Systems quickly reviewed Opus Trust's requirements, and proposed and implemented its DISCOVERY Multiscan solution on 9 devices, including the three new Epic inserters. Each system incorporated their latest GigERead6 area scan camera technology to exit scan barcodes (including Royal Mail's Mailmark™ barcode) from documents and mail-pieces, at speeds exceeding 20,000 items per hour. DISCOVERY Multiscan's software tools then read and decoded each code, and through a simple integration, fed Auto JCS with real-time production data, to enable it to reconcile accurately all mail-pieces. If any errors or discrepancies were found, Auto JCS would alert the operator to take corrective action and initiate a reprint request to ensure 100% mail-piece integrity was being maintained.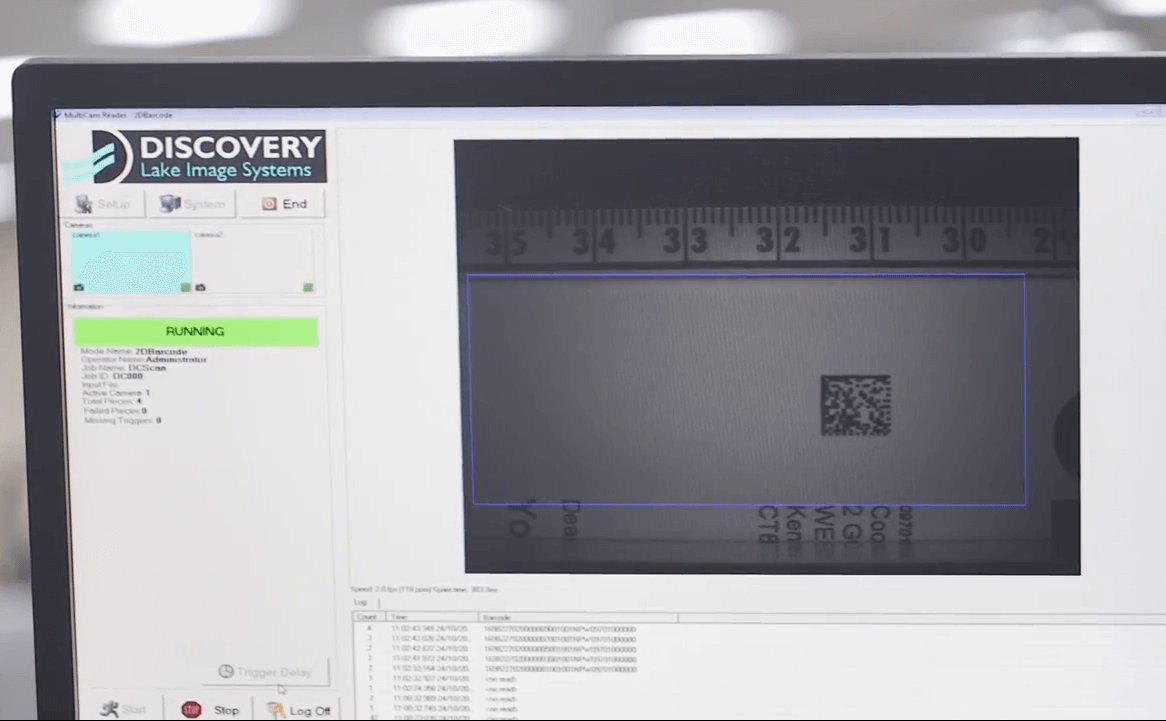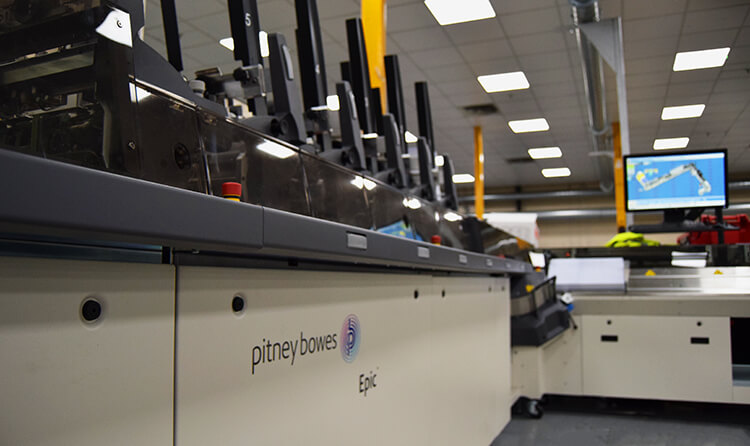 At the end of a job, the reconciled data is used to create the most accurate Mailmark™ e-manifest file for submission, as well as enabling Auto JCS to provide up to date throughput and productivity management reports.
IMPACT
Today, DISCOVERY Multiscan powered by its camera technology, has become an integral component of Opus Trust's Auto JCS system.
Working in partnership with Lake Image has enabled Opus Trust to automate the process of collecting real-time data, essential for ensuring end-to-end integrity in their mail production workflows.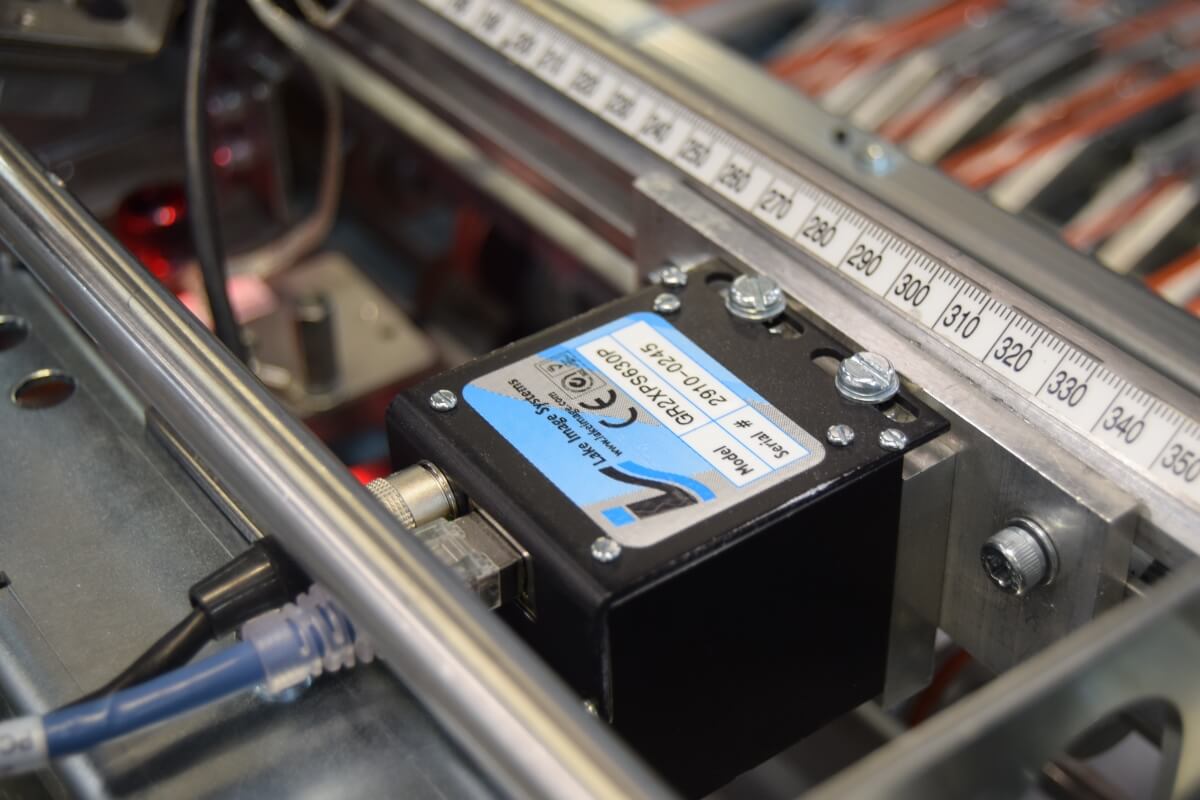 These cameras are our eyes. They work tirelessly day and night to read every single page, document and mail-piece that we generate,". commented Alonso. "Our systems are highly dependent on these cameras in order to automatically track, process and check our work with absolute accuracy – essential for meeting our data privacy obligations and our tight SLAs."
Furthermore, the Lake Image solution has helped Opus Trust to fully automate existing labour-intensive and error-prone processes.
Camera reconciliation technology has given us accurate, real-time item-level data which we can use to fully automate our mail production processes. A good example of this is our automated reprint process. This has improved our throughputs, reduced operational costs and more importantly has allowed us to provide a high-quality mailing service that is fast, safe and secure," said Hooper.
This solution has allowed Opus Trust to turn a challenging automation project into a viable, secure and profitable service. As the regulations around data privacy gets tighter, this investment has solidified Opus Trust's position as a leading provider of highly regulated print and mail services in the UK.