Pressure Sealed Forms – Automated Integrity Inspection
Our client is a global document solutions company at the forefront of print innovation. As a leading provider of production print solutions, they help organisations to maximise the effectiveness of their communications.
In the UK, they provide fully managed digital print, finishing, scanning and mailing services to medium to large corporations throughout the UK and has grown significantly through offering competitive, high quality and high integrity print, fulfilment and scanning services for a range of complex business applications. A prime example of this is their recent success with offering a high integrity and auditable pressure sealed payslip production service.
Pressure Sealed Forms
Pressure Sealed forms provide organisations with a cost-effective and secure method for printing and mailing confidential and tamper-proof documents. These forms are a great way to save the time and money normally associated with envelope stuffing, and ideal for documents such as payslips, tax statements, remittance and pension advices, electoral documents and many more.
In 2015 our client won a major services contract to process, print, seal and distribute pressure sealed documents for a global outsourcer of employer payroll and HR services. The Operations team quickly put in motion their extensive experience to deliver a secure, error-free pressure sealed payroll document production service according to this client's high integrity and SLA requirements.
For maximum operational flexibility, they chose an offline print and pressure seal process. This enabled the substrate to cool before being transferred to the two high-speed Paragon pressure sealers. Being committed to the highest standards of quality and technical excellence, the client initiated a program to ensure high product quality levels and auditability were built into the process from the outset. As the Operations Manager elaborates
Our aim was to ensure we account for every pressure sealed document, and batch them in the correct sequence, together with a comprehensive audit trail that not only satisfies our clients' requirements but also helps us to mitigate any business risks."
Challenges
As with many multi-step manual processes, offline print and pressure sealing can create its fair share of challenges. Manually moving large volumes of printed output can result in documents being misplaced or loaded onto the pressure sealer incorrectly. Furthermore, substrate and environment conditions can also increase the likelihood of jams and wrecks. Unchecked these issues can quickly erode the integrity of the documents, resulting in sequencing and batching errors or worse missing documents!
As the Operations Manager explains "During our peak production periods we could be producing in excess of 140,000 documents daily and our Paragon pressure sealer is capable of processing 40,000 documents per hour. At these speeds we had to make sure that all of our processes were super efficient and that we are able to detect and rectify any errors immediately. Placing a barcode on every document and utilising this to verify our production integrity was the only way forward."
Furthermore, their client's extensive customer base in the UK, which includes small businesses to large corporates, meant that job sizes could vary enormously, from one payslip to over 15,000 payslips from one job to the next. With up to 150 jobs to process, print, seal, batch and verify daily for same day dispatch, Our client needed a highly capable, reliable and fast camera-based inspection system that would automate the verification process and provide an effective audit trail that would satisfy the end customer's stringent SLA's requirements.
Solution
When looking for a solution, the client didn't need to look too far.
We needed an integrity management capability that accurately read a barcode and reconciled every page with a control file at high speed. This was precisely what we already have within our existing mail inserting equipment which works extremely well. We quickly realised that the underlying technology came from Lake Image Systems and so they were an obvious choice for us."
Following a detailed analysis of their requirements, Lake Image implemented its DISCOVERY Multiscan system directly onto the two Paragon pressure seal lines, with a GR2 area-scan camera to read a barcode, on exit, at speeds exceeding 40,000 documents per hour. Each valid "read" is passed to a DISCOVERY Enterprise server which checks for sequence and reconciles each document with a supplied control file. Job control files are created up-stream and supplied to DISCOVERY Enterprise in the correct order prior to the job being processed on the Paragon.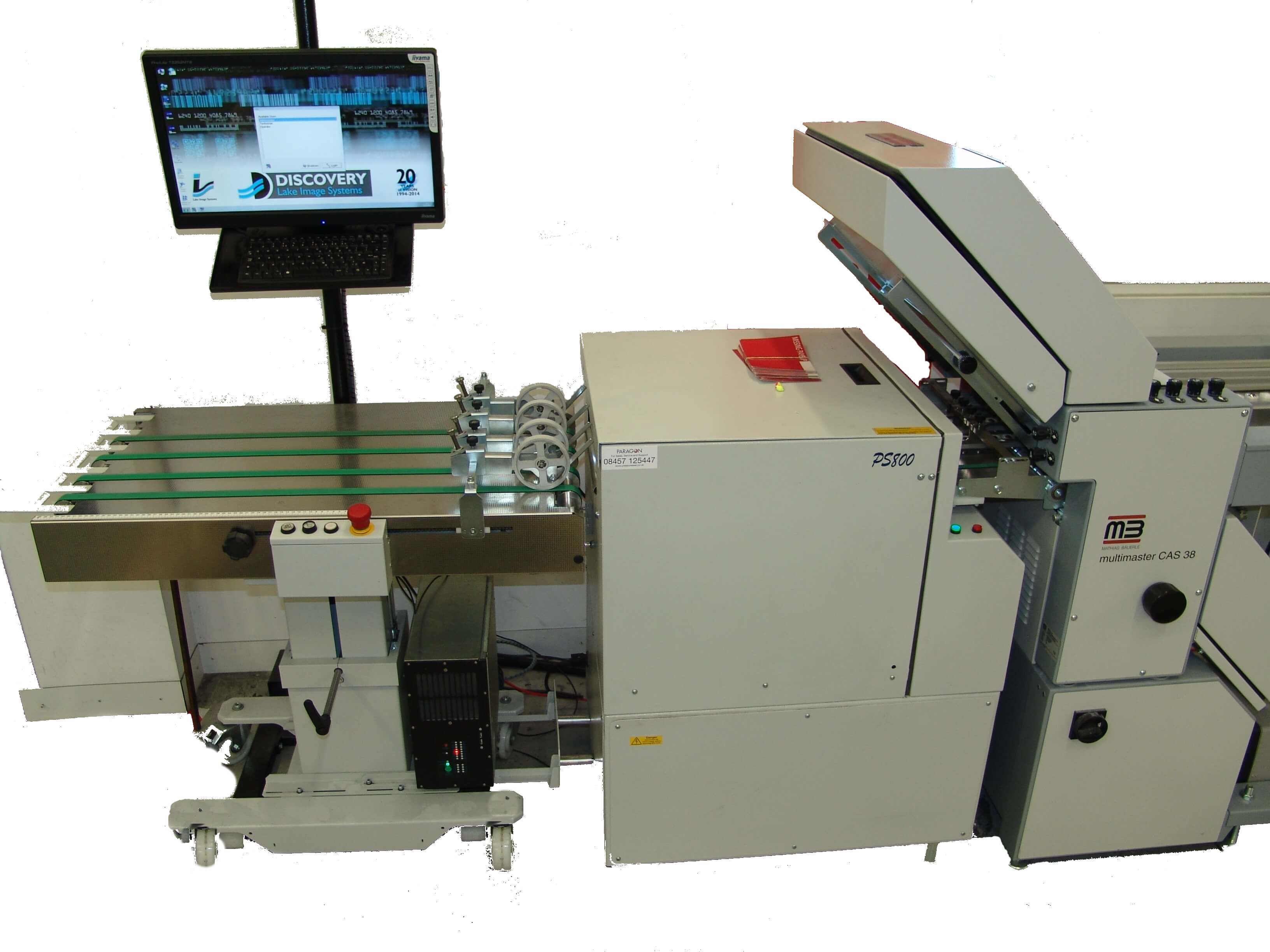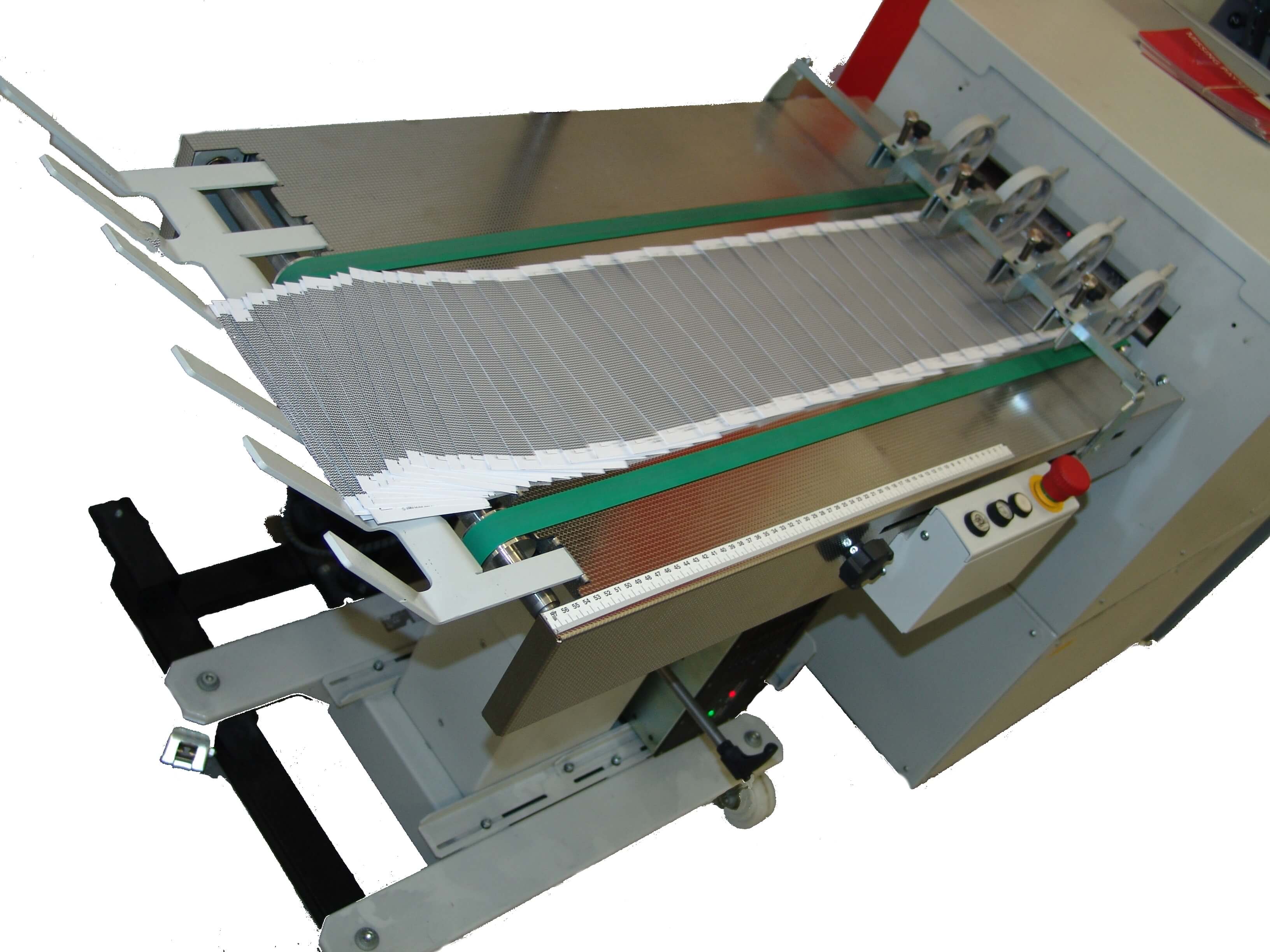 Printed job header and trailer pages at the start and end of each job automatically identify the correct control file to the Enterprise Server. This enables the operator to stack up multiple jobs onto the Paragon input hopper for non-stop processing.
This is an important performance feature we requested," commented the Operations Manager "otherwise the operator would have to manually identify and select a control file for every job, which could introduce errors and be very time consuming, especially for small jobs."
When an incorrect, missing, duplicate or out-of-sequence piece is detected, DISCOVERY Enterprise immediately stops the device. Handheld barcode scanners allow the operator to manually repair the documents required to close out a job. Lastly, Enterprise creates a reprint file for automated reprinting and maintains a detailed log.
Impact
Today the system is an integral part of the client's print and dispatch services for pressure seal documents.
The solution has proved to be highly successful in helping the client to inspect and validate the integrity of every document – a key requirement for their end customer. According to the Operations Manager,
Although our production teams are highly motivated, trained and loyal, who take great pride in their work to keep operational errors to an absolute minimum, the Lake Image solution has enabled our operation to maintain its high quality standards and has automated time-consuming processes to allow us to keep within the very tight SLAs we have to meet."
Furthermore, the audit trail created by the Lake Image solution provides them with invaluable data to evidence their production processes and to resolve queries and issues should they arise.
The success of the Lake Image system has given this client the confidence to expand their business further and deploy it elsewhere within their operation.
As the Operations Manager concludes,
Being highly impressed by the way the system has performed and by the expert, responsive customer support we received from Lake, we are looking at how this technology can be applied to other parts of our operation to further automate processes and raise our quality standards to new levels. This helps us to optimise our operation and win more business."
This solution has allowed our client to deliver a quality product in an increasingly demanding print environment and has strengthened its reputation as one of Europe's leading print outsourcer for pressure sealed documents.