Ramón Chozas S.A. automates print inspection for Tax Stamps and increases productivity by 15%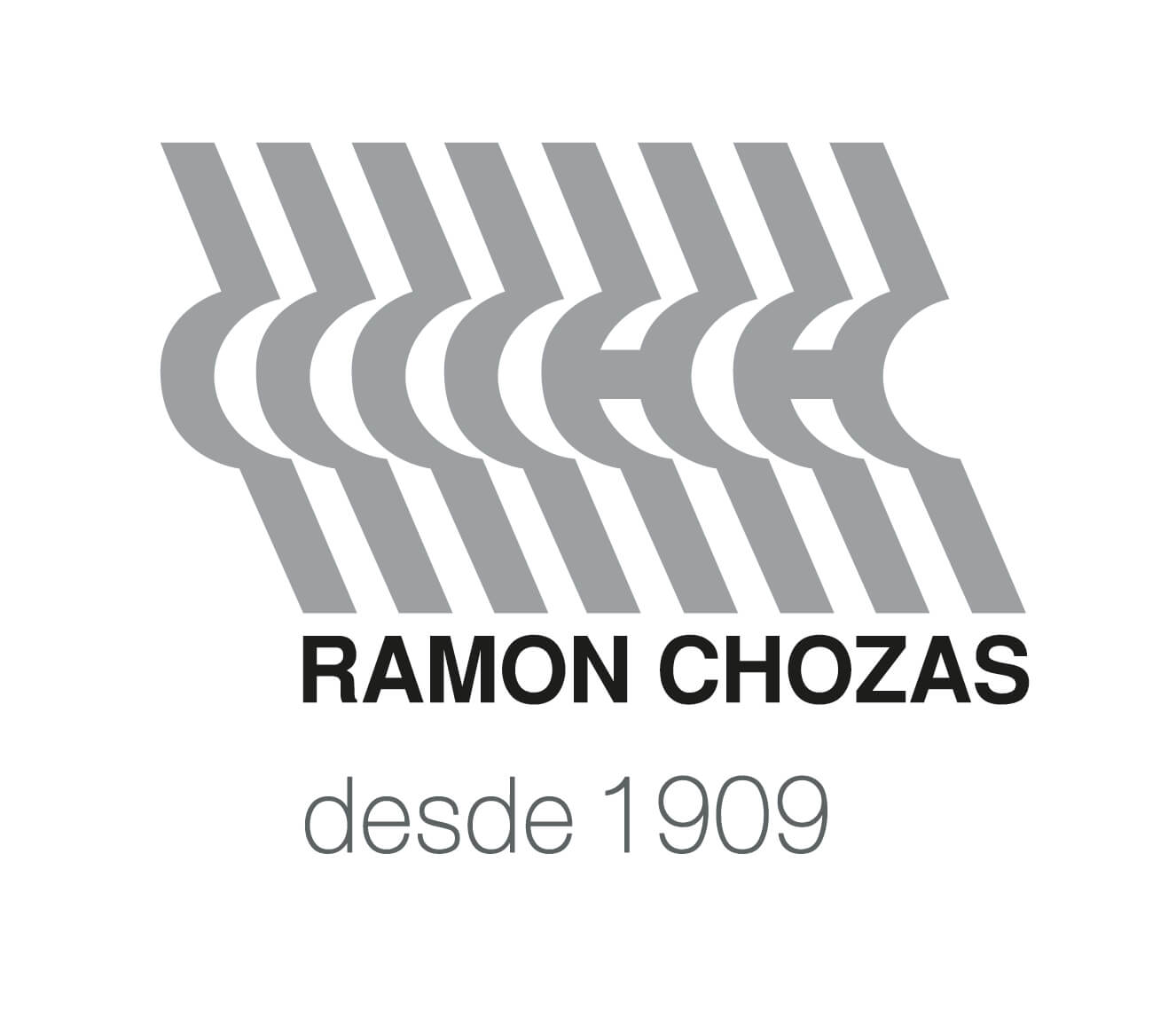 Established in 1909, Ramón Chozas is today one of Latin America's leading commercial and security printers, specializing in the production of high-quality documents and labels, and a key player in the commercial stationery distribution market through its brands Húsares and Capitolio.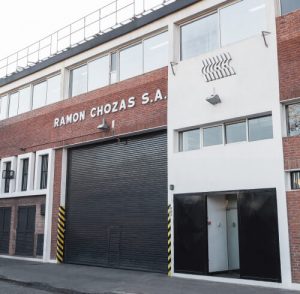 Based in Buenos Aires, Argentina, Ramón Chozas' success has been due to its uncompromising commitment to ensuring the highest levels of quality control for all its printing and finishing processes. This success is driven by its strategy to adopt the latest in quality assurance and automation technology and has enabled Ramón Chozas to offer a wide range of highly innovative security and brand protection label production solutions at a competitive price. So, when a national agricultural agency had a requirement to create a new Tax Stamp to secure their products, Ramón Chozas proposed a winning, cost-effective solution that met all their requirements.
COST EFFECTIVE TAX STAMPS
Traceability and authenticity are now common requirements for most security labels such as Tax Stamps. Concerned with a growing black market in counterfeit products, the agency wanted each of their products to carry a secure Tax Stamp label, along with a unique serial number and security features. This would allow their inspectors to securely authenticate the product using their smartphone, giving real-time traceability information to deter criminals.
We could have used traditional authentication technologies such as special inks, dyes, taggants and holograms on stamps, but this would have substantially increased our production costs," said Pedro Etchemaite, Production Manager at Ramón Chozas. "We finally settled on the ScanTrust secure QR code technology as it offered the superior levels of protection and traceability that we wanted. More importantly, this technology required standard printing techniques, which meant that we were able to offer a highly cost-effective, competitive solution."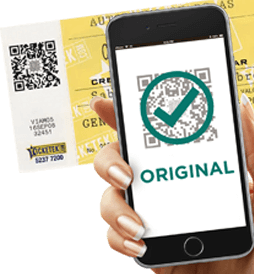 ScanTrust's technology involves printing a variable QR code, containing a unique secure graphic that cannot be copied and can be easily verified using a mobile app, which also geo-locates every scan. If a scan indicates a counterfeit Tax Stamp, an alert is automatically sent to the agency to investigate further.
The ScanTrust secure graphic is made up of a densely packed dot pattern. This had to be printed above 800 DPI for it to be correctly authenticated using the app on a typical smartphone. Attempts to copy the stamp would inevitably degrade this pattern, causing authentication to fail when using the mobile app. Therefore, maintaining a high level of print quality for this secure graphic, throughout the print run, required careful monitoring.
CHALLENGES
As with any production printing process, print quality levels can sometimes vary from one production run to another. Issues such as toner and ink marks, voids and poor print registration can occur randomly and could have a major impact on image quality.
For the Tax Stamp to work flawlessly in the field, we had to ensure that every tax stamp was printed to our high-quality standards," explained Etchemaite. "Critically, each variable ScanTrust QR code and the secure graphic had to register together, and be scannable and authenticated during the print run."
This entailed taking regular QA samples of the tax stamps, scanning them using the ScanTrust mobile app, which then verified and authenticated them to ensure they were being printed to the required quality level.
However, this simple QA process created a major operational headache for Ramón Chozas as Etchemaite explained,
We had to slow down the label press to almost a walking pace, so that our QA staff could carefully remove a row of tax stamps using a strip of clear tape. Each time we risked damaging the adjacent stamps and the web itself."
When producing over 3 million Tax Stamps in a single print run, this QA process was becoming impractical and was seriously impacting productivity. Furthermore, as with all high security applications, the repercussions of a random printing or human error are also much higher.
It became clear that an automated camera verification solution, to inspect 100% of the print run, was required to improve productivity levels and mitigate the risks associated with faulty stamps entering the field.
SOLUTION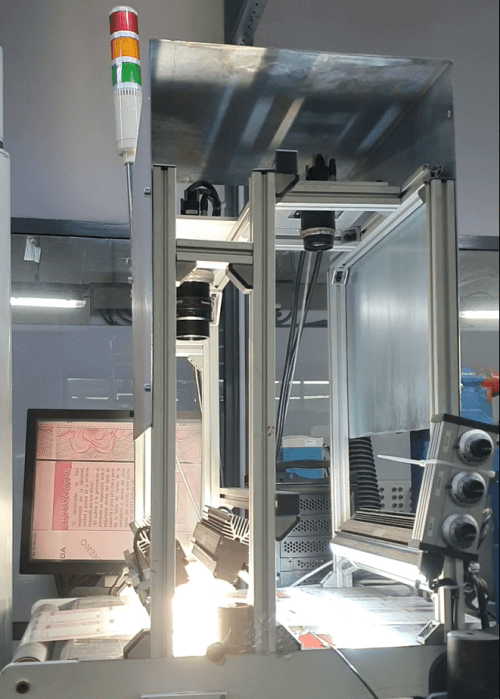 Etchemaite knew that they needed a camera and image technology specialist to provide an integrated, automated solution working alongside ScanTrust. Having purchased a barcode and OCR verification system from Lake Image back in 2010, Etchemaite added:
We've been very impressed with the reliability and performance of the Lake Image product, providing print quality assurance and verification for many of our VDP jobs. I engaged ScanTrust to see if an integration between the two technologies could provide a possible solution."
Lake Image Systems and ScanTrust SA collaborated to develop ScanTrust's RAILS (Real-time In-Line Verification System), an integrated code verification and authentication application that interfaced with Lake Image's DISCOVERY Multiscan3 on an MS Windows platform.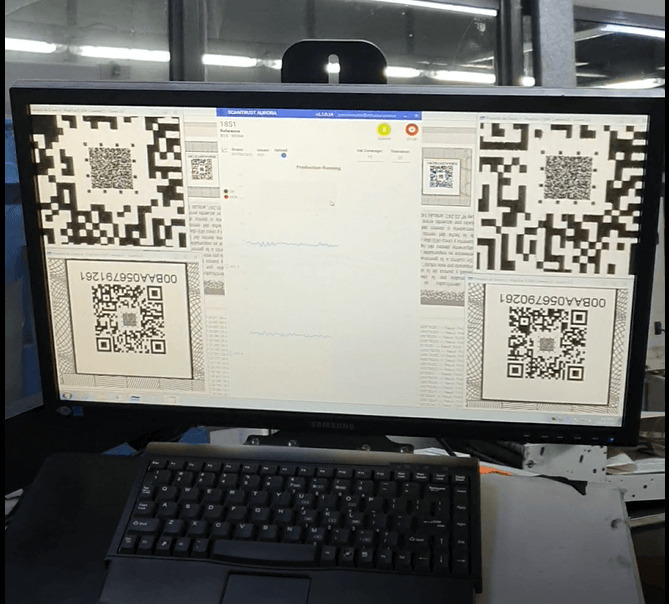 Lake Image Systems installed its latest 16K Line-scan camera, capable of capturing high resolution images (at 1600 dpi) of the ScanTrust secure graphic, QR Code and the variable information printed on the Tax Stamp, immediately after the printing process. These images were then processed by DISCOVERY Multiscan3 to read, decode and validate both the QR code and the serialized numbers against a database. DISCOVERY Multiscan3 also extracted the secure image, and through the integration, interrogated the ScanTrust's RAILS system to authenticate every Tax Stamp, in real-time and at full press speeds. The ScanTrust's RAILS system periodically uploaded the data to the ScanTrust Enterprise Cloud platform, to register and activate all the verified Tax Stamps, prior to them being slit, reeled and dispatched.
An additional 4K Line-scan color camera enabled Multiscan3 to verify the static parts of the Tax Stamp for print quality defects – such as die-cut/positioning errors, print registration, and text errors. If an error is detected, Multiscan3 alerted the operator, so that corrective action could be taken. For gross defects, Multiscan3 is configured to stop the press, preventing further product loss and waste.
IMPACT
The versatility of the DISCOVERY Multiscan3 system, in combination with Lake Images' powerful linescan camera technology, has turned a very challenging operational issue into a viable, secure and profitable printing service for Ramón Chozas.
Using a manual sampling process to ensure we were meeting our quality standards is fine for low volume applications. However, for high-speed, high-value security applications, we had to implement an intelligent inspection solution to automate our QA processes in order to meet our high internal quality standards, and to maintain our ISO certifications," remarked Etchemaite.
The integration with ScanTrust's RAILS and by automating the end-to-end inspection process for verifying the ScanTrust secure QR codes has also enabled Ramón Chozas to meet its productivity and more importantly its profitability targets for this new tax stamp application.
We are producing over 10 million Tax Stamps a year for this important client. As we don't have to slow down our presses when taking QA samples, we have seen at least a 15% increase in productivity with 100% reassurance that our printing processes are good," declared Etchemaite. "We are now fully confident and ready to deliver a reliable, cost-effective and quality anti-counterfeit solution, not only for this client, but also for other clients within the security printing industry to protect brands and revenue, with full traceability throughout the supply chain."
This renewed confidence has opened up a new market for Ramón Chozas and has allowed them to fully exploit the business opportunities afforded by the ScanTrust technology.
We are currently working on several projects to print Legal Stamps in Chile. We are also excited about a further opportunity in Brazil to print brand protection labels," revealed Etchemaite.