ROYAL JOH. ENSCHEDÉ: Lake Image inspects the next generation of barcoded postage stamps for Deutsche Post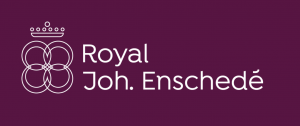 Royal Joh. Enschedé (RJE) is among the most historic businesses in The Netherlands. In 1703, Izaak Enschedé and his son, Johannes, opened a small book printing shop in Haarlem and laid the foundations for a business that has evolved into a globally recognised printer of banknotes, stamps and security documents.
Throughout its long history and rich heritage, RJE has remained true to its founding principles to offer the highest levels of operational excellence with an uncompromising commitment towards quality, adding value and innovation. Together with business agility and a technologically driven approach, these were the supporting pillars to RJE's continued success, and this was clearly evident in its recent pursuit to print the next generation of postage stamps for Deutsche Post.
TRACEABLE POSTAGE STAMPS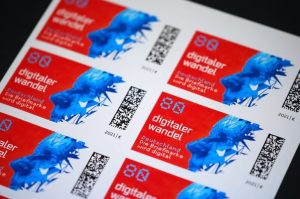 The humble postage stamp is undergoing a phenomenal digital transformation. Faced with the growing threat from stamp fraud and forgeries, and the pressure on postal authorities to offer more reliable, transparent delivery services, a new era in postage stamps has emerged.
By printing a unique, two-dimensional data matrix code on every stamp, postal authorities can now track a letter throughout its delivery network. Customers and businesses can track their letters, using a mobile telephone app to enable better visibility. Furthermore, as each stamp is printed with a unique matrix code, any reused or forged stamps are immediately recognised and appropriately dealt with, preventing fraud and revenue losses for the postal service.
Deutsche Post was among the first postal authorities to introduce this revolutionary new stamp to its customers and in early 2021, RJE secured the business to print the new 80-euro cents stamp for the German market in February 2021.
As a security printer, we have a long tradition with extensive expertise in printing postage stamps, " said Gelmer Leibbrandt, CEO at Royal Joh. Enschedé. "However, Deutsche Post had two specific requirements we had to satisfy. The first was to ensure that the matrix code on every stamp was unique and would be readable throughout Deutsche Posts delivery network, and the second was that each delivered batch of stamps was accompanied by a manifest file, in their required format. When producing over 2 million postage stamps a day, we had to ensure we could meet these requirements consistently, efficiently and with the highest levels of accuracy."
CHALLENGES
RJE considered a number of options to overprint the matrix code onto offset-printed stamps, based on equipment availability. The Domino K600i inkjet printer mounted on their Mabeg MSP Sheet Feeder quickly became the obvious choice as it provided the throughput, the print quality at 600dpi and the flexibility RJE needed.
Ensuring that every code was present, readable and accurate was a little trickier as Frank Uitendaal, Operations Team Lead at RJE explained.
Our preferred layout was to print the matrix codes onto 90 stamps per sheet. But then each code had to be barcode graded and if it failed to read or fell below a grade A, then the whole sheet had to be diverted. In addition, we also had to maintain a database of all good and discarded codes in order to report back to Deutsche Post. We had a legacy camera inspection system that could do the job, but this was on our Gremser line, which was constantly being utilised."
This meant that RJE would have to resort to a two-step process; one to print the matrix codes on the Mabeg line and then to load these sheets onto their Gremser to do the inspection.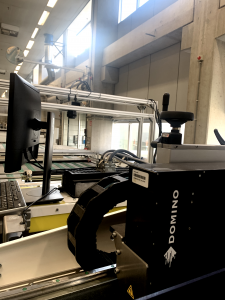 This was far from ideal as this would tie up 2 sets of equipment and operational staff and so would impact our production throughput and efficiency. Also, moving work from one equipment to another could introduce errors which we wanted to avoid," said Leibbrandt.
It was clear that RJE needed a separate inline camera inspection system on their Mabeg line, immediately after the Domino K600i inkjet printer. This inspection system would need to be capable of reading and grading every matrix code, triggering a divert on an error and then outputting a report that RJE could use to create the all-important manifest file for every job run.
SOLUTION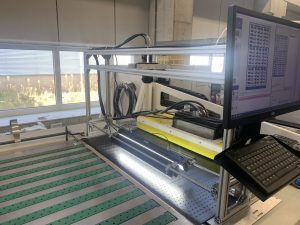 When looking for a solution, RJE turned to their inkjet printer supplier, Domino Printing Sciences for their recommendation. Domino immediately recommended their recently acquired camera inspection specialist, Lake Image Systems as the ideal solution to meet RJE's requirements.
Following a short period of testing and solution validation, RJE selected Lake Image for the critical step of inspecting the postage stamps. Lake Image implemented its industry-leading DISCOVERY Multiscan3 solution, together with its 8K linescan camera technology directly on the Mabeg line, immediately after the Domino K600i inkjet printer.
We were highly impressed with the ease and simplicity of the Lake solution. The combination of the Domino inkjet printer with the Lake Image system worked perfectly together, and gave us a lot of flexibility to use multiple stamp layouts which we wanted," commented Uitendaal.
Each batch of 1000 sheets, containing 90 stamps, were overprinted with a unique matrix code, by the Domino K600i printer linked to a carefully controlled database containing codes supplied by the Deutsche Post. The DISCOVERY Multiscan3 camera system then read and barcode graded every code. If a code failed to read correctly or fell below an ISO grade A, then the whole sheet would be tracked and diverted at the end of the Mabeg line running at over 2000 sheets per hour.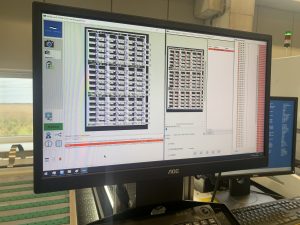 At the end of every run DISCOVERY Multiscan3 produced a detailed report on the status of each sheet and the matrix codes within them. RJE then used this file to check for possible duplicates and to generate a manifest file which would be sent to Deutsche Post. This file enabled Deutsche Post to release the stamps knowing precisely which codes were active and, more importantly, which were not.
This was a key requirement and Lake Image worked closely with us to ensure that we had the right data, in the specific format we wanted," concluded Uitendaal.
IMPACT
The perfect partnership of Lake Image and Domino has turned a challenging operational requirement into a viable, secure, and profitable printing service for RJE.
The Lake Image solution has not only met the stringent matrix code quality and data integrity requirements for this high-profile client but has also helped to streamline their print workflow.
By implementing the Lake Image solution inline on the Mabeg has meant that we only need one operator for this application, significantly improving our operational efficiency. Also, we are now able to increase our throughput and take on more work without impacting our existing production schedules," explained Uitendaal.
The combined solution has also enabled greater flexibility when changing stamp designs and layouts. RJE is already widening the print window, allowing more stamps to be printed on each sheet, and is implementing completely new stamp designs, both possible with minimal changes to the Inkjet printer and the inspection system.
Day to day I hear very little about the system, which is good as it shows everything is working well," noted Leibbrandt. "And it's a big hit with Operations too."
Following on from the success of this project, RJE has high hopes for growing this part of their business.
Resolving our inspection issues was the final hurdle we had to overcome. We are already in discussions with other Postal Authorities around the world who are looking to introduce similar coded postage stamps into their markets," remarked Leibbrandt.
This project is another example where RJE's investment in innovation has paid off. As Leibbrandt concluded,
Only through constantly adopting cutting edge technology such as this, can we stay true to our guiding principles of delivering the highest levels of operational excellence and product quality, both necessary to maintain our reputation and to continue our long tradition as a leading security printer."