Strahm Automation & Mailing – Lake Image & W+D joined forces to provide greater flexibility, integrity & operational efficiency
As one of Kansas City's premier service bureaus, Strahm Automation & Mailing Services has built its reputation on delivering superior print quality, mail integrity and customer service through its unyielding commitment to technology and process excellence. For over a century, this commitment has enabled Strahm Automation to flourish as a traditional print shop, and since 1995, has been the driving force behind its digital transformation.
Today, Strahm Automation provides a variety of services including transactional and direct mail production.  This includes utility bills, jury duty notifications, medical test results, tax statements, etc. Strahm Automation clients have a unique blend of requirements with a diverse workload that demands the highest levels of personal attention, production, integrity, accuracy, and responsiveness. To this end, Strahm Automation turned its focus to replacing its aging fleet of mail inserters to meet growing operational demands and to continue its digital transformation journey, whilst improving accountability to its dedicated customers.
PRODUCTIVITY & MAIL INTEGRITY
In response to the ever-growing demand for full-color, short-run jobs, Strahm Automation invested heavily in print-on-demand color technology.  They then identified the need to upgrade their mailing technology to allow them to continue to deliver a best-in-class, efficient, and secure mailing service at a competitive price.
We had multiple Bell&Howell inserters that served us well for years, but they were slow and required regular maintenance.  We also produce a multitude of small jobs, many with differing envelope formats which required frequent changeover. This was starting to impact both our operator productivity and our throughput so we had to resolve this shortcoming", said Brian Macdonald, Operations Manager at Strahm Automation.
Strahm Automation used in-line feeder/folder units that assembled, accumulated and folded the mail-pieces before feeding them into the Bell&Howell inserter. Integrity is based on an integrated scanner in the feeder/folder which reads a 3of9 barcode on each document to identify the start/end and the number of pages in a mail-piece.
These systems have served us well for many years, however, the ongoing reliability, productivity and high cost of ownership was becoming a major cause for concern for us. Furthermore, the introduction of more stringent regulations for our heavily regulated work had pushed this existing technology to its limits," concluded Macdonald.
CHALLENGES
The way the inserter system handled mail integrity errors was quickly determined as a possible root-cause for their inserter throughput, operator productivity, and integrity management issues.
Each time the inserters detected an error they would stop, but they provided very little information on the error. Our operators would spend a considerable amount of time investigating the error before restarting the inserter", said Macdonald. "We wanted to eliminate this operational burden and establish a more efficient, reliable mail enclosing process."
Additionally, the growing regulatory and compliance considerations within the industry, such as the Health Information Portability and Accountability Act (HIPAA) – mandates that mailers have the highest levels of mail integrity.  All manual interventions were a potential source of errors that increased Strahm Automation's exposure and liability.
Furthermore, the existing inserters were very inflexible. We would either dictate where to place barcodes to our clients, or we would have to physically move scanners per job!  This complicated our set-up procedures and impacted our productivity," commented Macdonald.
Other than investing in a full ADF System, Macdonald knew that higher mail integrity could be achieved with a system that tracked each mail-piece intelligently throughout the inserter, together with a final "quality assurance" check at the output.
SOLUTION
Following a detailed review of the inserter market place, Strahm Automation purchased the W+D BB700 S2 high-speed mail inserter with integrated Lake Image reading technology. This solution provided the productivity and integrity they were striving towards.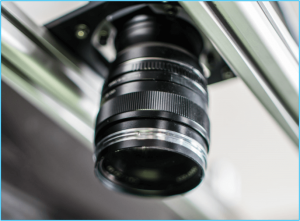 The marriage between the BB700 S2 Closed Loop Integrated Processing (CLIP) system and Lake Image Systems' DISCOVERY Multiscan and embedded camera technology, gave the inserting system the intelligence it needed to meet all of Strahm Automation's operational and compliance requirements.
Lake Image's linescan camera technology gave Strahm Automation the flexibility to read all industry-standard barcodes that can be placed anywhere on the page!  This greatly reduced set-up time and almost eliminated the chance of errors. In conjunction with W+D's CLIP technology, each mail-piece is intelligently tracked through the inserter to guarantee both page and item-level integrity. Finally, Lake Image's output verification camera is used to give the mail-piece a final "integrity assurance" check and recording as the piece exited the inserter.
For any integrity errors, such as a page sequencing or duplication issue, the suspect mailpiece is out-sorted without the inserter stopping, allowing continuous mail production on the BB700 S2. Full on-screen error reporting allowed the operator to quickly correct the suspect mail-pieces at the inserter, and/or flag them for reprint.
 With the speed of the BB700, its flexibility to handle complex jobs, its superior error handling capabilities, and the reliability of the reading technology, we are now able to process jobs much faster and more efficiently than ever before. In line with our digital transformation strategy, we now have the intelligent, efficient and virtually non-stop mail enclosing environment we wanted," added Macdonald.
IMPACT
Strahm Automation's investment in a solution from W&D and Lake Image has delivered impressive business benefits.
Firstly, the new intelligent inserter system has allowed Strahm Automation to meet its productivity targets.
We have moved almost all the jobs from our multiple Bell & Howell inserters over to the BB700 inserter without loss in throughput," said Macdonald. "This means we can now process the same amount of work on one inserter, but with only a third of the labor, floor space and power."
Secondly, integrating Lake Image's linescan camera technology inside the BB700 has given Strahm Automation the flexibility to allow clients to place their integrity marks/barcodes anywhere on the page, streamlining their new client/job onboarding processes and inserter set-up tasks.
The integrated output verification camera in the BB700 exit module has provided added assurance to Strahm Automation that all mail-pieces are in the right sequence, complete and logged.
Occasionally, we are asked to provide evidence that we have processed a particular mail-piece. The depth of auditing information we now get makes this a simple, hassle-free task for us," explained Macdonald.

The combined 'best in class' technologies from Lake Image and W+D have given us the perfect solution we were looking for. Not only does this new technology work extremely well, but it's also a big hit with all our operators", summed up Strahm Automation's President, Brian Dicker.
Overall, the new technology has enabled Strahm Automation to take on more profitable, high-integrity mail production work. It has increased both operational flexibility and productivity – while increasing profit margins through reduced labor and overhead costs!