Discovery READ&PRINT for RFID wins a Must See Em "Best of Category" award at PRINT17
September 18, 2017
HENRIETTA, N.Y – September 19, 2017, Lake Image Systems Inc., the leaders in data integrity, verification and print quality inspection systems, has won the 2017 MUST SEE 'EM "Best of Category" award for Discovery READ&PRINT for RFID solution within the Color Management and Quality Control category.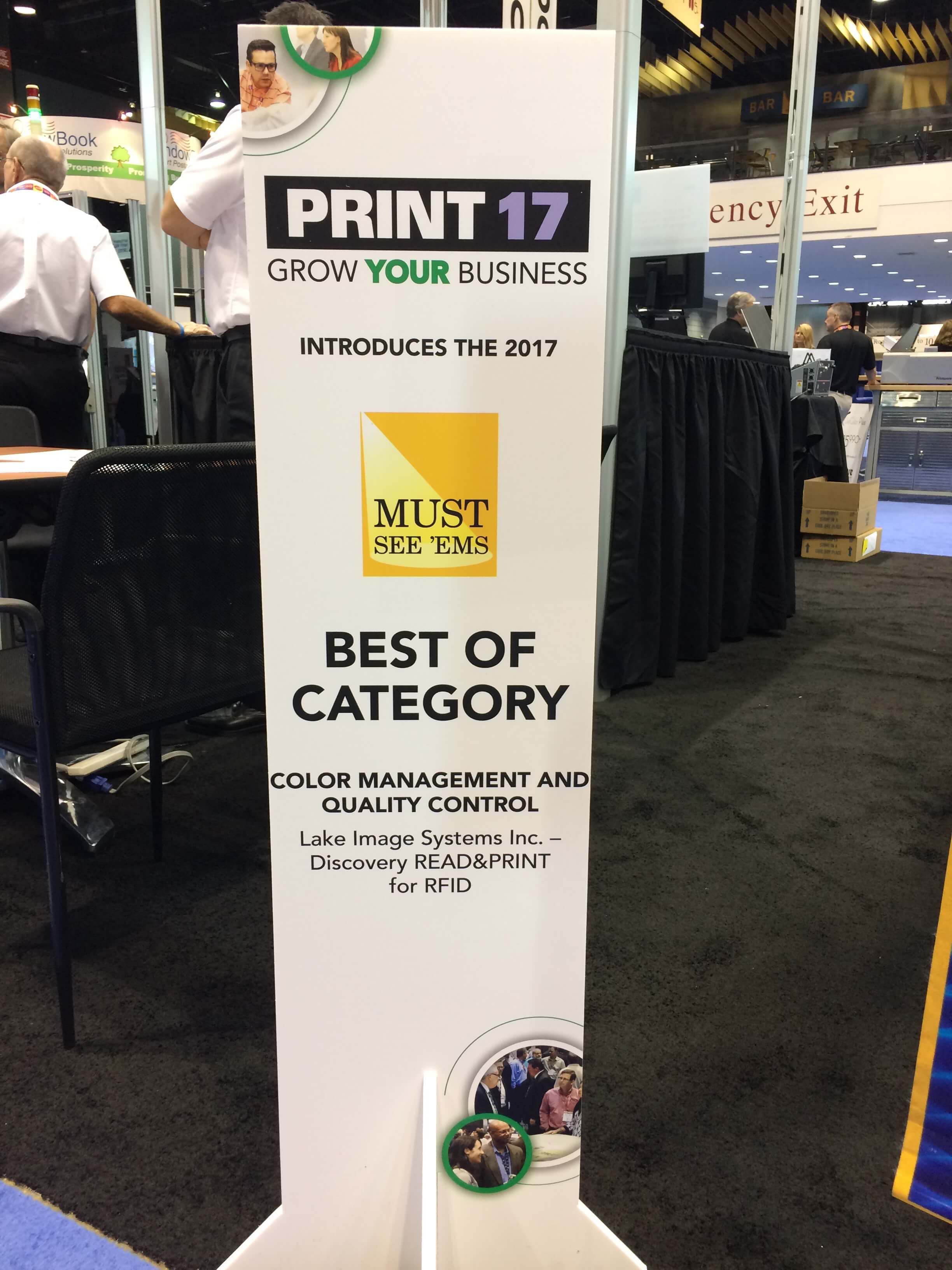 "Best of Category" is awarded to the highest-scoring entry within each of the 11 categories assessed and selected by an anonymous panel of industry experts, journalists and consultants at PRINT17 in Chicago. These awards recognize winning technologies which offer most compelling and innovative solutions within the industry. "These 12 products represent exemplary advances in the print and graphic communications arena, and serve as shining examples of the future of our industry," says Thayer Long, President of NPES.
Discovery READ&PRINT for RFID Tags is a cost-effective, in-line, end-to-end RFID read, encode, print and verify integrity management solution for high-volume RFID tag production. The solution is fast and reliable and processes thousands of RFID imbedded items or labels per hour whilst maintaining 100% integrity at every stage. Defective RFIDs labels and tags are automatically identified, tracked and marked as "VOID" or diverted at the end of the line. Targeted RFID encoders and readers ensure that the signal from one tag does not interfere with another tag, enabling even faster throughput. Discovery READ&PRINT for RFID Tags is provided with all of the required components – vision system, RFID's readers and encoders, inkjet heads, monitors, cables etc., with full installation and integration service – all at a low, affordable price.
Following this award and the "Best of Category" award given to Discovery Roll Inspector at GraphExpo last year, Scott Stevens, President for Lake Image Systems Inc said "We are immensely proud and honored to have won another "Best in Category" award and our fourth consecutive Must See Em award overall. These awards clearly recognize our efforts in developing and delivering truly innovative solutions which offer real value and benefit to our customers."