Glossary of Print Inspection Terms
Learn more about print quality and data integrity inspection terms commonly used in the Print Industry.
Address Verification
When printing transactional documents (statements, and bills) or variable data labels (e.g. Shipping labels) with variable delivery addresses, a camera inspection system is used to verify that the address is readable, printed in the correct location and format (street, city, postcode/ZIP code, country), and is accordance with the requirements of the postal service (e.g. USPS, Royal Mail, etc.) being used. Any errors could result in the mail item being lost, delayed, or rejected by the postal service. The camera system will also verify any postal barcodes (e.g. USPS's IMB and Royal Mail's MailMark) and match them against a database and with the printed address to ensure that integrity is being maintained. See Video
Area Scan Cameras
Area scan cameras are designed to provide high-resolution, 2D images, using the latest high-resolution sensors that offer quality monochrome, color sensors that are sensitive to normal, infrared, or UV light. Lake Image Systems uses a range of Area scan cameras that capture images of a defined area and at set intervals (or repeats) based on trigger marks on the paper. Our Area scan cameras are ideal for reading codes on moving substrates that are always at a certain location and therefore easier to set up and configure. In addition, for inspecting larger print areas, multiple area scan images can be stitched together.
Automated Camera Inspection
Automated camera inspection systems are equipped with single or multiple cameras/scanners that capture good-quality images that are analyzed to detect printing defects. These systems are implemented on a high-speed production printer, press, finishing equipment, or inserter to either automatically monitor print quality, and detect variable data errors or production errors such as sequencing, missing or duplicate items, in real-time and without human intervention. If an error is detected, the Camera Inspection System can stop the equipment or jog/tab/divert the item and produce a detailed error report. Automated Camera Inspection systems are required for high-speed critical mail production (statements, bills, invoices, etc.), security documents (ID documents, certificates, vouchers, etc.), Security labels (authentication, shipping, tax stamps, etc.), and plastic cards and gaming applications. These systems minimize production costs by avoiding reprint, reruns, and waste, protect data privacy, and prevent fraud, security, and other criminal activity. See DISCOVERY Multiscan
---
What is a Barcode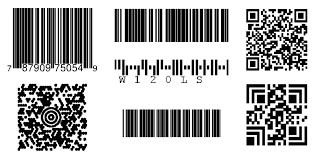 A barcode essentially is a way to encode information in a visual pattern that a machine can read. The combination of black and white bars (elements) represents different text characters that follow a set algorithm for that barcode type. If you change the sequence of elements you get a different text.
A barcode scanner reads this pattern of black and white that is then turned into a line of text your computer can understand.
Barcode verification gives organizations the reassurance and confidence that the bar code will perform as intended at all stages of the product's supply chain.
What is Barcode Grading
Barcode grading gives a measure of the first-time scan rate which determines its quality, through decoding, measuring, and checking the format of the barcode.
Lake Image's Multiscan Barcode Grading Tool measures specific characteristics of each barcode, compares it to a benchmark, and grades it to a value ranging from (A-F or 4-0). This ANSI/ISO grade provides an indication, based on the print quality, of the likely scanning performance rate of the barcode throughout the supply chain. Typically, a barcode with a grade of A-C (or 4-3) is considered acceptable quality and is expected to be scannable anywhere and by anyone. It confirms to the barcode printer that they are producing barcodes to the required quality level.
Batch or Collation Control
When producing transactional mail (such as statements or bills) or pages for a booklet, each set must be verified to ensure the correct sheets are collated and are in the right sequence before the set is either inserted into an envelope or finished into a booklet, book or magazine. Any errors in batching can result in missing, duplicate, or out-of-sequence pages resulting in costly production reruns, reprints, and waste and worse still, breaching data and privacy law. See Video
Bindery Integrity Verification
Bindery equipment from guillotines and trimmers, folders and creasers, collators and booklet-makers to binders and laminators require skilled personnel to precisely configure, set, and monitor equipment to ensure that a perfect booklet, catalog, magazine, or bound document is produced every time. Common issues such as incorrect page sequencing, missing or duplicate pages, and page orientation can easily occur due to operator errors in loading the equipment, and random mechanical faults such as misfeeds and jams, which intensify with suboptimal static electricity, temperature, and humidity control. A Bindery Integrity Verification solution uses cameras mounted on the bindery equipment to track sheets, read codes, and verify sequencing and collations to provide 100% verification of every bound item.
DISCOVERY Bindery provides powerful but simple to use, OCR and barcode reading and verification tools to read 1D/2D barcodes and other unique page markers, such as page numbers. During equipment setup, DISCOVERY Bindery checks that the correct base stock and the trays/pockets are loaded with the right signatures, and whilst in production verifies the correct page sequence, front and back matching, and page count for each set. If the wrong tray or stock is loaded or if an out-of-sequence, front/back mismatch, missing, or duplicate page is detected the system issues an alarm and optionally stops the equipment.
---
Card to Carrier Matching
Plastic cards such as banking, loyalty, telephone, and gaming cards are attached to a personalized cover letter (carrier document). For automated high-speed, high-volume applications, a camera inspection system is used to verify the card data matches the data on the carrier before the card is attached. Any mismatches cause the equipment to stop preventing the card from being sent to the wrong recipient. See Video
Card Inspection System
An inspection system specifically configured to inspect the card for printing defects (scratches, ink marks, voids, etc) and incorrect or unreadable variable data (card numbers, account details, pins numbers, access codes, etc.) on high-speed card personalization lines. This extends to verifying printed or embossed data on the card or data encoded on magnetic stripes against a database and/or ensuring sensitive data is brought fully conceded on scratch-off areas (gift or telephone cards). see Video
Colour Verification (deltaE)
Normally a feature of an inspection system is to verify that the colour of a specific print region remains within a configured range to a pre-defined colour reference (deltaE measurements). If the inspected colour derivates outside the range then the inspection system will either stop the press or mark or tab the web whether the error was detected. For closely coupled systems, the inspection result can be passed to the printer control, in real-time, to adjust print heads, recalibrate print or inkjet heads, or performs a head cleaning process to rectify the problem. DISCOVERY Multiscan colour deviation tool offers this capability.
Contact Image Sensor (CIS)
Contact Image Sensors are a relatively new technology used for print inspection applications as alternatives to Line scan and area scan cameras. CIS uses a linear array of detectors (up to 1.5 meters in length), covered by focusing lenses and flanked by red, green, and blue LEDs for illumination which capture, high-resolution (600 and 1200 dpi), undistorted images. Please see DISCOVERY Maxscan
---
Data Integrity Verification
Poor data integrity can lead to misplaced, duplicated, or missing items, resulting in personalized and private data being sent to the wrong person, wasted promotional campaigns, increased waste, and so on. Data Integrity Verification involves using sequence and file-based verification tools to verify documents and printed items are present, in the right sequence and in the right place. This is done by checking each printed item against a predefined sequence, the original print file, or a database, in real time, to confirm its integrity and to report on its status. See DISCOVERY Multiscan
Database Lookup Verification
When verifying whether the printed item is in the right order or the variable information printed on it is correct, a camera vision system is used to compare the data captured (or is Looked up) against a database or data file. Normally, the database (or data file) used is the same data source that was used to create the print file being used to print the job. See DISCOVERY Multiscan
Database Control
A process where a database (or data file) is used to control how the printed item is processed on a piece of equipment. For example, on an Inserter, a database could be used to control which insert (from a selection of inserts) is included with a mail-piece, or to look up and print (using an Inkjet head) the correct postal address/barcode on the face of the envelope or to divert a specific mail-piece relating to a deceased person. See DISCOVERY Multiscan
---
Exit Scanning
Exit scanning is used to provide a final check before an item leaves the equipment. For example, exit scanning is normally used in Mail production to read the postal address through a windowed envelope to ensure it is visible, readable and/or reconciled against a data file before the mail piece exits the inserter. See DISCOVERY Multiscan See Video
---
File Audit/File Based Control
A specific form of Database Lookup Verification where the precise sequence of every page in a mail piece (e.g. a credit card statement) is checked against an audit file for 100% verification to detect an out-of-sequence/missing/duplication page, resulting in an incomplete or incorrect mail-piece going out, which could infringe strict data privacy and compliance laws. Cameras and integrity software are used to precisely track, read, and verify control codes (sequencing numbers or barcodes) printed on every sheet. If an error is detected, the mail piece (and normally the adjacent mailpieces) are automatically diverted (and reprinted) allowing the inserter to continue processing the job – maintaining productivity & service levels for time-critical mail. See DISCOVERY Multiscan.
---
Intelligent Mail Barcode (IMB) Verification
Intelligent Mail Barcode (IM barcode) is a barcode for use on mail in the United States that combines routing ZIP code information and tracking information into a single barcode providing a greater range of tracking data to organizations that set out large volumes of mail. Lake Image's Intelligent Mail Bar-code Quality Verification & Tracking tool inspects every IMB code to ensure it complies with USPS dimensional requirements.  This tool inspects bar height, bar width, baseline shift, code skew, bar pitch, bar clearance, bar spacing, and readability of each Postal code based on USPS standards.  This tool inspects 16 variables on each and every piece at speeds in excess of 90,000 pieces per hour. See DISCOVERY Multiscan See Video
Inkjet Nozzle Inspection and Alignment
Inkjet printing is a non-impact process, where the ink is emitted through nozzles which are precisely controlled for printing complex shapes or designs. However, these inkjet print head nozzles are prone to clogging due to dried ink or debris physically impeding the nozzle plate orifice, air bubbles that interfere with ink flow, or due to an electrical failure, an electrostatic discharge or a manufacturing defect.
An inline inkjet Nozzle Alignment and Inspection solution allows printers to automatically detect defective nozzles and optionally feeds this data back to the Inkjet controller for corrective action. DISCOVERY JETCHECK  automatically detects blocked, defective, and misaligned inkjet nozzles. By capturing a high-resolution image of a specified inspection test pattern printed by the inkjet head, DISCOVERY JETCHECK analyses the scanned image to determine the precise location of defective inkjet nozzles. DISCOVERY JETCHECK measures the minute distances between test lines printed by alternate heads to calculate the adjustments required (in PELS or µrads) to correctly align one inkjet head, in respect to the other.
---
Label Inspection System
Billions of variable data labels are used daily to track or trace goods, optimize workflow, provide brand protection and identification, or deliver important consumer information. The information printed on them needs to be legible, and accurate and the label itself must be correctly applied. Label inspection systems provide the necessary capabilities to ensure these requirements are met such as print quality inspection, label/data integrity verification, bar-code grading, and label-to-reel reporting. See Solutions for Label Inspection See Video
Label Integrity Verification
Digital label presses now print variable data labels on label presses running at well over 100 meters/min. (300 ft./min.). At these speeds, visual inspection by the operator is totally inadequate for detecting print or data integrity errors on labels with variable printed text and barcode information. Labels printed in multiple lanes across the web, are typically slit and rewound onto single-lane reels which may be distributed to multiple clients. Again, if these reels contain labels with variable text and barcodes, then each reel needs to be verified on the inspection station before they are distributed. See DISCOVERY MULTISCAN Label Integrity Manager (LIM)
Linescan Cameras
A line-scan camera reads the image data one line at a time. This means that it doesn't observe the image as a whole, but rather it precisely captures multiple 1-pixel wide images,  line by line as the object moves under the camera. These images are sent to the inspection systems which stitch them together to create a seamless image. These characteristics make line scan cameras perfect for a variety of inspection applications e.g. inspecting continuous web-printed variable data labels, flexible packaging, cards, and documents and for inspecting surface quality during lamination and coating processes. Typical sensor resolutions of 512, 1k, 2k, 4k, 8k, 12k and 16k are available for the image acquisition. See Linescan Cameras see Video
---
Mailpiece integrity verification
Ensuring that every piece of mail or publishing item (e.g. booklet, catalog, magazine, etc.)  is correctly processed, inserted, and delivered is only possible due to the continuing advancement in camera-based integrity systems that allow printers, mailers, and finishers to automate the verification and inspection of billions of letters, mail, and published items each year. However, when something goes wrong it can be both time-consuming to trace the exact problem to a specific step or equipment, and very costly to reconfigure and set up the various processing steps again to reproduce the work. For mission-critical mail such as statements and bills, an error could result in incomplete or incorrect mail being sent out infringing strict data privacy laws. Mailpiece integrity verification systems ensure every mail item is tracked, verified, inserted, addressed, and mailed to minimize errors. See File Audit/File Based Control, See Mail integrity solution See Video
Go to top of page
---
Optical character recognition (OCR)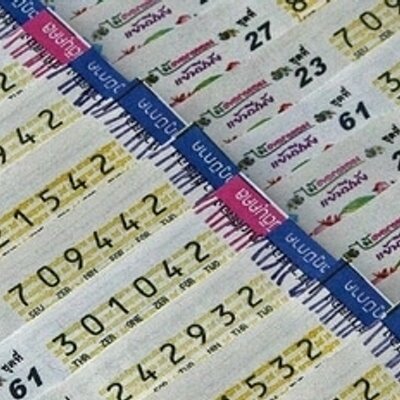 Optical Character Recognition (OCR) uses camera and software technology to recognize text and convert it into machine-readable text data, contained inside images, such as scanned documents and photos. Lake Image's Discovery Multiscan OCR Tool is specifically designed to detect a variety of printed text and numbers on high-speed presses for readability, accuracy, and integrity. An OCR tool is used to verify variable text printed on:
---
Print Quality Inspection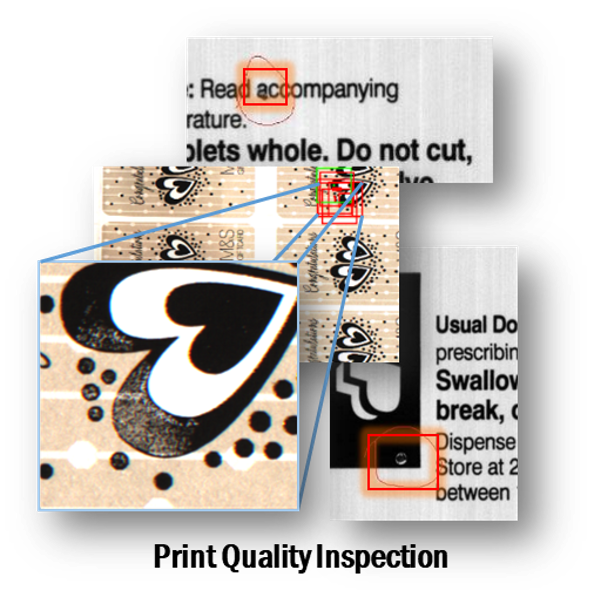 Print quality refers to the quality of the hard copy or printout produced by a printer. There are many factors that determine the level of print quality, but in general, it has to do with the accuracy of the reproduction of the input material, which can be influenced by the type of paper used and by the specifications of the printer such as the dots per inch (DPI), the print-head capability and the type and quality of ink/toner used. Issues such as blocked inkjet heads, toner placements or printed hardware, environmental influences such as dust, humidity, or temperature, or even human error in the incorrect set-up and operation of the printer, can all these can result in print quality issues. Print Quality Inspection uses specialized cameras and sophisticated image processing technology to monitor, detect, alert, and report on printing errors.
Lake Image Systems offers a comprehensive print quality inspection system for monitoring 100% of the printed material, using high-performance camera imaging, high-definition web viewing, and automated defect detection technology for web & sheet print, labels and packaging applications.
Print Process Control
When a print defect or integrity error is detected by the camera inspection system, it is essential that the correct item is diverted, marked, or flagged in the most appropriate and efficient manner to minimize the impact on the ongoing production process. Whether the item is sheetfed or on a continuous web, precise print process control must be maintained throughout using robust integrity management, item tracking, and close integration with the equipment. This ensures that the right item is identified and either the equipment is stopped, an alarm is sounded, or the item is diverted and presented to the operator to mark, tab, or flag the item for later off-line inspection and correction. This management of defects minimizes the loss in productivity, time, and wastage, and therefore the direct impact on operational costs and profitability.
Print Registration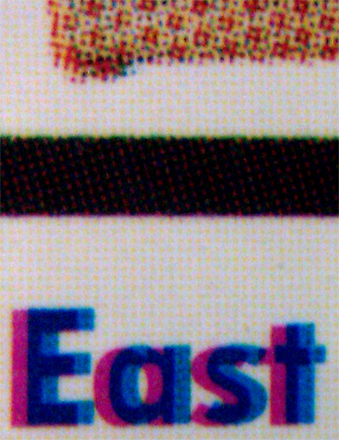 In multi-color printing, print registration refers to the precise positioning of successive printed colored dots on top of each other to create the desired color. Due to issues with printer set-up (e.g. color calibration, head alignments, or printer hardware issues) or non-optimal environmental conditions can cause the print registration is out of sync, resulting in a poor-quality image which would need to be discarded and reprinted.
A print Inspection camera system is typically used to detect print registration issues as soon as they occur to prevent further waste in paper, ink and printer time. DISCOVERY Multiscan uses multiple techniques to detect print registration issues. A common technique is to compare a specific test pattern (e.g. a row of colored squares or lines printed outside the print area or in between pages) against a reference pattern. If a misalignment or missing color is detected, an alert is issued to warn the operator. For gross or repeating errors, the inspection system can stop the press to prevent further loss.
See Inkjet Nozzle Inspection and Alignment for a specific DISCOVERY Multiscan tool (JETCHECK) that can be used to detect Inkjet nozzle alignment issues.
Print Colour Inspection
See Colour Verification (deltaE) above.
Go to top of page
---
QRCode Inspection & Verification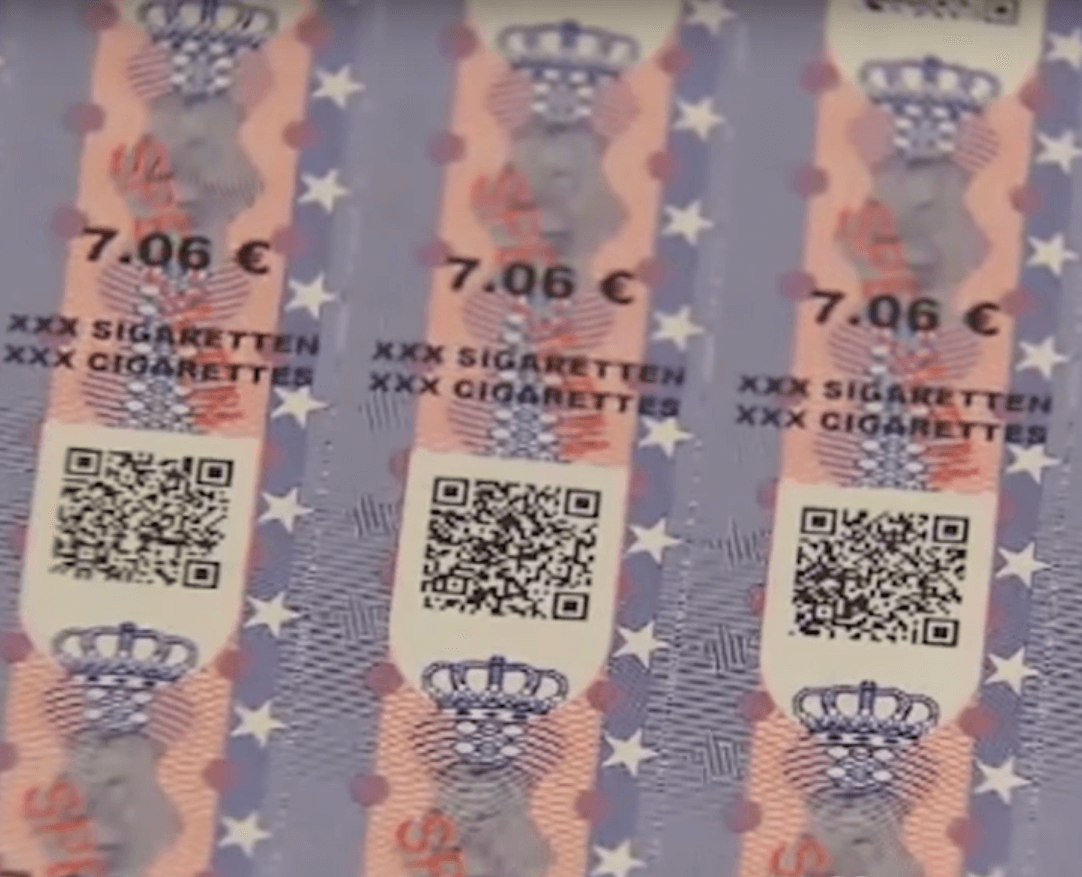 QR code (abbreviated from Quick Response code) is a machine-readable two-dimensional barcode that often contains data for a locator, identifier, or tracker that points to a website or application. QR codes have become common in consumer advertising. Typically, a smartphone is used as a QR code scanner, displaying the code and converting it to some useful form (such as a standard URL for a website, thereby obviating the need for a user to type it into a web browser). QR codes are increasingly being used on personalized printed items such as authentication/anti-counterfeit labels, Tax Stamps, ID cards, payment documents, and loyalty programs, which point to highly personalized websites or pass variable data to an application, specifically associated with a product or person. If the QR code cannot be read or if the encoded URL is incorrect, then the marketing effort is lost, access can be denied, security could be breached, or can prevent the essential traceability and authentication of high-value or controlled items. DISCOVERY Multiscan can check every QR code as they are printed, decode it, and verify the data or URL against a file or database for accuracy.
---
Read & Print Systems
Typically industrial inkjet printers are increasingly being used to print variable information onto mail items, plastic cards, labels, and packaging items. A very high level of tracking of each item through the production equipment from the initial identification through to the printing of variable data on each item is essential to prevent the wrong item from being printed.
Typically a camera inspection system is used, integrated with the Inkjet controller to track items based on time, distance, cycle counts, and barcode/OCR text reads to ensure the proper item is being printed with the correct variable information. See DISCOVERY READ&PRINT solutions for more information.
Return Mail Processing
When an enterprise sends out a large mailing – whether from marketing, billing, or for information, it receives a portion of it back as returned mail. The cost of non-delivery can be substantial. Not only does each piece of returned mail represent a loss of the initial production and postage costs, but the organization faces additional costs to identify and log the old addresses, obtain the new addresses, update the associated databases, and then reprint and mail the piece.
A Return Mail Scanning solution is used to automate the process of identifying and logging the variable data from each returned mail. See DISCOVERY Return Mail for Lake Image's solution for handling and processing high volumes of return mail.
RFID (Radio-Frequency Identification)
RFID (Radio-Frequency Identification) technology is a wireless communication method that uses radio waves to identify and track objects equipped with RFID tags or labels. These tags contain electronically stored information that can be read remotely by RFID readers. RFIDs find widespread application in various industries, facilitating efficient asset tracking, inventory management, and supply chain optimization. They offer real-time visibility into the movement and status of tagged items, enhancing data accuracy and reducing human errors. With the ability to provide quick and accurate identification, RFIDs contribute to streamlined processes, improved security, and enhanced overall efficiency across diverse sectors.
An RFID inlay label is a label consisting of an RFID inlay—a small electronic component with an integrated circuit and antenna—and a label material. The RFID inlay contains electronically stored information that can be wirelessly read by an RFID reader. The label material serves as a printable surface, allowing additional variable data, such as barcodes or human-readable information, to be added.
At the forefront of high-speed RFID inlay label production is DISCOVERY RFID by Lake Image Systems. Seamlessly integrating into label production setups, DISCOVERY RFID offers features like high-speed RFID reading, encoding, and verification. In the realm of data validation, this cutting-edge solution ensures precise alignment between RFID-encoded data and printed information on labels, minimizing errors in supply chain management.
Go to top of page
---
Security Print Verification
Banknotes, identity cards, passports, tamper-evident labels, cheques, product authentication, stock certificates and postage/tax stamps are the lifeblood of the Security Printing industry. Driven primarily to combat the ever-growing threat of counterfeiting and smuggling activities, Security Printers are tasked with ensuring that every document, label, stamp or card produced is legible, accurate, secure, error-free, tracked and has a detailed audit trail.
Security Printers rely on camera inspection systems to give them confidence and reassurance that their production processes are correct, error-free, trackable, and importantly, auditable according to their end clients' needs. These systems automate often high manual processes where production is checked (or sampled) periodically for defects, errors or missing/duplication items. Check out Lake Image's solutions for Security Print verification.
Go to top of page
---
Track & Trace
For many products, tracking it through the production steps and through its supply chain is an essential process for all businesses. Normally identifiers (barcodes, QRcode or OCR text/numbers) printed on labels or directly on the packaging are used to identify and track it through its workflow.
Camera systems are normally deployed to read these identifiers at each step to either log or pass its presence to factory/inventory control systems, cloud applications and authorities. This information is used to later to trace a specific lost item, authenticate it, or verify its delivery to the end client.