In-Core Systèmes, Lake Image and H-R&S partner for New SmartCrypt-3D Authentication Solution
February 10, 2015
In-Core Systèmes, in partnership with Lake Image Systems and H-R&S, have launched at Labelexpo Europe 2015 a new SmartCrypt-3D authentication system for security labels and documents, aimed at protecting brand owners and government agencies from counterfeiters.
The SmartCrypt-3D authentication solution is based on revealing (through the application of a solvent) and analysing a random pattern produced by specific markers embedded within the security paper. Using a patented asymmetric encryption algorithm, the SmartCrypt-3D software then uses the revealed random pattern to generate an encrypted code which is associated into a QRCode, printed on the label or document. The combined pattern and QRCode creates a unique authentication mark that effectively "fingerprints" the document as genuine. The random dot pattern and the associated QRCode can later be authenticated by the customer by simply scanning the label using the SmartCrypt-3D App on a smartphone. This protection is as efficient as a watermark and the SmartCrypt-3D solution provides a robust, low cost solution which is highly effective against combating counterfeiters.
By using specific markers within the security paper, together with analysing in the inherent natural paper properties, the SmartCrypt-3D solution cannot be copied due to its patented, random algorithm coding technology.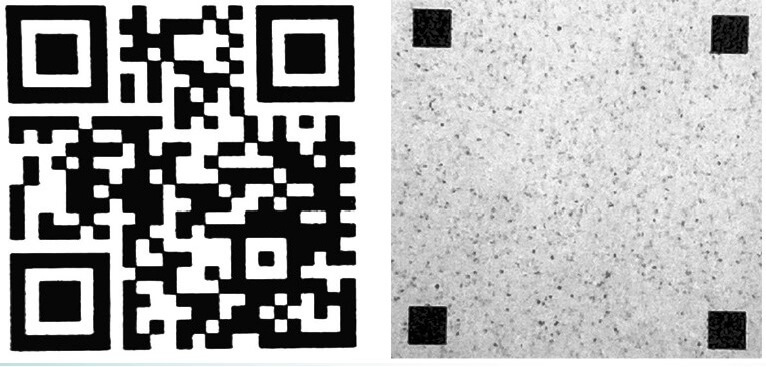 To ensure the SmartCrypt-3D authentication marks are produced to the highest level of quality, reliability and efficiency, three best of breed technology providers have come together to provide the necessary solution components and to enable Label converters and secure document producers to implement this solution on their existing production equipment:
Honnarat Recherches & Services: Provides the SmartCrypt-3D encryption software and Smartphone authentication App.
Lake Image Systems: Provides Discovery MultiScan, a vision integrity system to track and capture an image of each revealed random pattern that is passed to the SmartCrypt-3D encryption software. The returned encrypted code is then used to generate a QRCode which is inkjet printed onto the label itself. Discovery MultiScan then further reads, inspects and grades each printed QRCode and either diverts faulty documents or generates a Label roll map which is later used to locate and replace any faulty labels on a rewinder system.
IN-CORE Systèmes: In the framework of its traceability solutions' portafoglio dedicated to the security paper makers, IN-CORE Systèmes ensures the full implementation of the SmartCrypt-3D concept. SmartCrypt-3D is flexible and highly adaptable to meet the various manufacturing processes requirements and specifications of Converters and End customers.
This innovative concept can be enhanced using Lineavision proven in-line inspection, able to check the surface anomalies, to control security features dimensional characteristics, to back-up and monitor process variation at early manufacturing stage.
SmartCrypt-3D solution is ideal for clients seeking a true security solution in combination with simple customer authentication processes. The solution provides a simple, low cost yet highly robust and effective solution for high volume production of authentication labels and documents. The solution is applicable to Government agencies that need to produce secure identity documents, breeder documents and Tax Stamps as well as to Brand owners that need to secure cheques, vouchers and retail tags labels on merchandise to stem the rapid growth in counterfeit documents and goods.
Read News Item on Labels and Labeling Website:
http://www.labelsandlabeling.com/news/latest/core-syst%C3%A8mes-lake-image-and-h-rs-partner-smartcrypt-3d
DOWNLOAD PDFs