Label Inspection System for Label print quality and data verification
Billions of variable data labels are used daily to track or trace goods, optimize workflow, provide brand protection and identification or deliver important consumer information. That's a lot of functionality in a small space. Whether a label serves as a routing barcode on a postal item or applied to assist the identification of products, the information printed on them needs to be legible, accurate and the label itself must be correctly applied. Label inspection systems provide the necessary capabilities to ensure these requirements are met.
Lake Image Systems provides real-time inspection solutions for both web and sheetfed applications at widths up to 1.4m and speeds exceeding 350m/min.
Using a wide range of area and line scan cameras and scanner technology, including Lake Image's linear scanning technology (Discovery Maxscan) our label inspection systems, can capture crisp images necessary to allow our industry-leading Discovery Multiscan inspection software system to detect printing defects, read and verify OCR text and 1D and 2D barcodes including barcode grading to ISO 15415 standards.
Typical Requirements
Label inspection system for tracking, verifying variable data labels, error roll mapping, print quality inspection and control production workflow,
Reliable reading of barcodes and unique identifiers on high speed, multi-lane digital label presses, and converters
Verify base stock verification to ensure correct label stock is being used for correct jobs, comparison to a data file, image archiving and integrity reporting at high production speeds
Read from challenging, highly reflective surfaces such as holograms and foils, and ultraviolet and infrared printed codes
Ensure that all items within a print file are processed without missing or duplicate pieces.
Barcode ANSI/ISO grading and reporting to ensure linear barcodes, 2D/QR codes and GS-1 codes comply with guaranteed contract specifications and international standards.
Detailed inspection and precise print quality detection to identify print quality defects associated with ingredients, dosage and usage information
Integration with "Track & Trace" applications for Pharma, Tax Stamps and high value consumables that must be tracked throughout the product lifecycle
Seamless integration with third party processing equipment such as in-line inkjet printers, feeders, affixers, wrapping and labelling equipment for real-time tracking to ensure the correct variable, matched information is printed on the correct the label.
Extraordinary read rates to keep up with the latest label converting equipment
Comprehensive integrity and audit trail reporting for all pieces processed.
Label Inspection Solutions for Label Manufacturers
We provide label inspection technology to the Label printing industry with extensive solutions for simultaneous print quality, integrity verification, bar-code grading, and production/piece level reporting. Our machine vision technologies and application engineering have years of proven performance in the field.
Food & Pack Labelling
Food and packaging labels are becoming more complex, with variable data, traceability devices and RFID security tags. Demands for increased throughput, improved process efficiency, and quality assurance are driving the dependency on inspection to reduce the risk of costly product returns, enhanced client satisfaction, and ultimately protect profitability. Our Discovery systems focus on print and label inspection requirements specifically for the food and packaging environment. Return on investment can be quickly achieved through reduced inspection costs, improved efficiency, waste reduction, and reduced risk.
Pharma, Shipping & Security Labels
Discovery's standard verification, quality control and reporting tools can easily be applied to pharmaceutical, shipping and security labels such as tax stamps and authentication/anti-counterfeit labels. Our solutions read critical data even from challenging surfaces, and UV/IR printed codes and validates them for accuracy, integrity (missing/duplication detection) and compliance to industry-standard protocols. Our Discovery suite can easily communicate with an MIS system associated with a pharmaceutical track & trace or lifecycle tracking system within a converting or packaging facility.
Solution capabilities
Lake Image Systems is a leader in delivering cost-effective print quality and integrity management solutions to the labeling industry, providing:
Variable data integrity, including weight, batch/lot code, sell-by dates, correct label flash/promotional label inspection
Missing/duplicate detection
ANSI/ISO Bar-code grading & quality
Pin number & Scratch off verification
Handles highly reflective surfaces & UV/IR printed codes
ePedigree tracking/Pharmaceutical Vision Systems
Sequence/batching/sorting verification
Inline inkjet integration & print verification
Database matching
Base stock verification
Track & Trace reporting
Integrity & Audit reporting
When an error is detected, DISCOVERY MULTISCAN Label Roll Mapping tool logs the nature of the error, its location (distance from a start marker), and the option to link to an image of the defective label in a Roll Mapping file. For multi-lane label production, DISCOVERY MULTISCAN Label Integrity Manager (LIM) tracks and collates information on each label in all lanes independently. Using the header information printed at the start of each label lane, LIM knows precisely the number of labels to expect in each lane as well as the start, end, and the increment of the printed variable information (in instances where the label sequence is across the web) to determine that the correct sequence is being maintained. For random or non-uniform increments, the variable information captured can be matched against a lookup file or database to detect missing or out-of-sequence labels.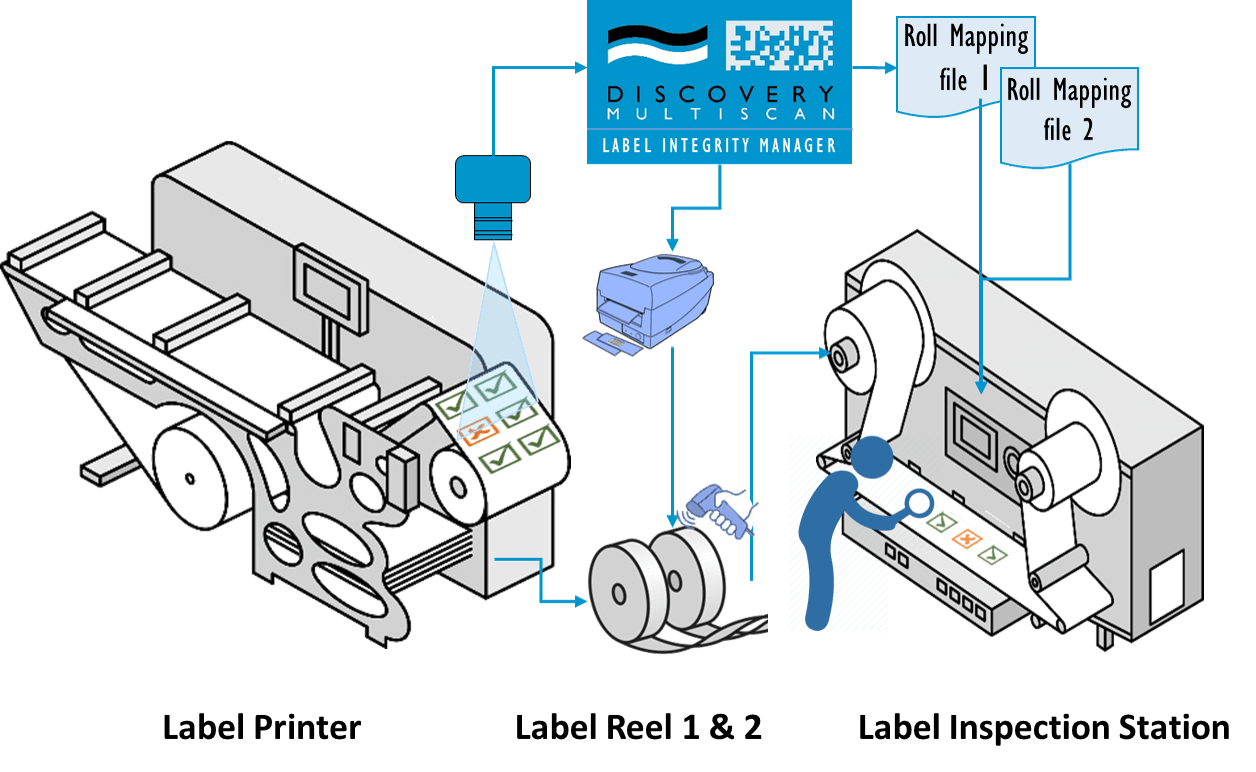 After each lane on the web has been slit and rewound onto multiple reels, LIM drives a Zebra printer to produce a "closure" label, incorporating an identifying barcode, for each reel. LIM also provides this support for turret rewinders. At the inspection station, by scanning the closure barcode on each reel, the correct Roll Mapping file is automatically selected for subsequent inspection. This greatly simplifies and speeds up the inspection process, removes operator error, and provides the Label Printer and the client with a quality audit file for each label reel.
The Discovery systems are scalable, from inspection only, to full roll-up modules designed to fit within your existing label processing lines. Comprehensive maintenance and support contracts are available to ensure maximum system availability, long operational life, and future-proofing.
Equipment Supported
Narrow web presses
Off-line Label Inspection equipment
Sheet fed presses
Packaging lines
Digital & Hybrid label presses
Robotic palletizers and carton packers
Converting equipment
Label applicators & Stamping machines