Our tailored inspection solutions give packaging manufacturers and packaging lines the confidence that their products & processes are error-free, trackable & auditable.
Whether you are printing variable barcodes, QR codes or a unique ID onto folding cartons, films, corrugate or labels, you need to make sure the printed or encoded data is legible, readable, accurate and error-free otherwise the integrity of the data, essential for marketing campaigns, consumer information or health education, can be lost or pose a potential risk.
Typical Requirements
Reliable reading of barcodes, QR code or NFC/RFIDs on high-speed packaging printing presses, packaging personalization lines and transport systems
Simultaneous inspection: such as stock verification, comparison to a data file, image archiving and integrity reporting at high production speeds
Laser and conventional die cut to print registration verification
Surface inspection on cloth material and laminated board
Ensure all items in a print file are processed without missing or duplicate pieces
Bar-Code ANSI/ISO grading and reporting to ensure linear bar-codes, 2D/QR codes and GS-1 codes comply with guaranteed contract specifications and international standards
Pharma blister pack fill and print inspection verification
Pharma carton batch and date stamp verification as well as barcode grading to ISO standards
Laser code verification on drinks cans and foils carton tops
Seamless integration with third-party processing equipment such as in-line inkjet printers, feeders, affixers, wrapping and labeling equipment
Verify and authenticate anticounterfeit QR codes (e.g. ScanTrust) for protect copy vulnerable/sensitive packaging
Integrity reporting to prove production integrity and detailed audit reporting to satisfy national food, health, and other government authorities and brand owner requirements.
Solutions for packaging printers & packaging lines
Lake Image Systems gives packaging manufacturers and packaging lines the confidence and reassurance that their production processes are correct, error-free, trackable and auditable.
High-speed packaging printing applications demand a superior level of speed and accuracy that creates problems for typical inspection solutions. Through our expertise and flexible architecture, we can use the latest in high-speed, high-resolution imaging technologies, enabling us to meet difficult challenges which others vendor walk away from.
Our rigorous development has resulted in superior systems with expanded capabilities for a wide range of applications in the printing, packaging and converting industries.
Our collaboration with ScanTrust (a secure cloud-based product authentication and supply chain traceability specialist, have developed a secure QRcode, containing a unique fingerprint pattern that cannot be copied), has enabled us to deliver an integrated and fully automated solution which gives printers the assurance that their ScanTrust codes are visible, readable, validated and authenticated in order to deliver a highly effective, traceable, and low-cost secure label and packaging printing service.
Read our case study on how this integrated solution has helped REYNDERS label printing, based in Boechout, Belgium, to automate their production workflow for 100% inspection and authentication of ScanTrust codes on secure packaging for numerous brands in pharmaceuticals, retail, agro-chemicals, and cosmetics to deter counterfeiters.
The Discovery platform provides accurate quality inspection, enterprise-wide tracking, and complex variable data verification.
Food & Beverage Packaging
Most product recalls stem from incorrect packaging, labeling and other food safety markings. Product traceability can minimize disruptions, such as product recalls, which come at an immediate cost and often result in a loss of future sales and significant long-term brand damage.
We provide several technologies that assist packaging printers and suppliers in ensuring their products meet the required quality standards for barcodes and traceability. Our RFID Read and Print solutions read, encode and verify that the critical RFID data matches the printed information to ensure 100% integrity.
Typical solutions include
Laser code verification on drinks cans, cartons tops and foil wrappers . Typically a 2D competition codes on ring pulls require verification against a database
Laser and conventional die cut to print registration verification. For reel to reel production, it is very difficult to measure registration between print and die cuts.  With the aid of appropriate lighting and the Multiscan measure software tool, this can be achieved with great accuracy.
Surface inspection on cloth material and laminated board. With the correct resolution line scan camera and lighting, We are able to see scratches, blemishes, scratches, and splices on a fast continuous wide web.
Pharmaceutical Packaging Inspection Systems
The pharmaceutical packaging industry, particularly those using blister packs and glass ampoule packaging, is adopting new technologies to provide differentiation in their products and to meet an increasing myriad of regulations (e.g. EU Falsified Medicines Directive (FMD) 2001/83/CE, 2010/84/EU and 2011/62/EU). These international standards ensure secure packaging/labeling, serialization, and traceability to combat counterfeiting, and improve patient safety.
We provide a range of solutions which include:
Barcode grade codes printed on pharma labels and packs to meet industry-specific ISO/ANSI standards
Variable data verification (product code, batch identifier, expiry date, and serial number) typically inkjet printed on to cartons & blister packs
Print quality inspection. 100% inspection against a "golden template" including print registration and colour variation.
Blister pack fill inspection to verify that each blister has a pill, the pill is whole and not crumbled and that the inkjet batch fill date and the unique code is verified.
DISCOVERY PharmaPQ is a comprehensive print quality inspection and data verification system for pharmaceutical applications, capable of monitoring 100% of the web using high-performance line scan imaging and automated defect detection technology for web print, labels, and packaging applications.
Return on investment on our solutions for packaging can be quickly achieved through reduced inspection costs, improved efficiency and mitigate business risks for printers & converters.
Lake Image Systems is a leader in delivering cost-effective print quality and verification solutions for the packaging industry, providing:
Variable data verification, integrity and quality inspection including weight, batch/lot code, UID, sell by dates
Verify and authenticate anticounterfeit QR codes (e.g. ScanTrust) for protect copy vulnerable/sensitive packaging
Embedded RFID Read, Encode, Print and Verify
Handles highly reflective surfaces & UV/IR printed codes
Base stock verification
Integration with Track & Trace systems (ePedigree tracking) & reporting
Print quality defect detection
Missing/duplicate serialized code/QRcode detection
ANSI/ISO Bar-code grading & quality
In-Inline inkjet integration & print verification
Database matching
Reporting and Audit
Equipment Supported
Narrow web and sheet fed presses
Inkjet read & print systems
Unwinders/Rewinders
Inkjet serialisation bases
Digital packaging printing presses
Document & label transports
Converting equipment
Off-line Inspection equipment
Packaging Lines
News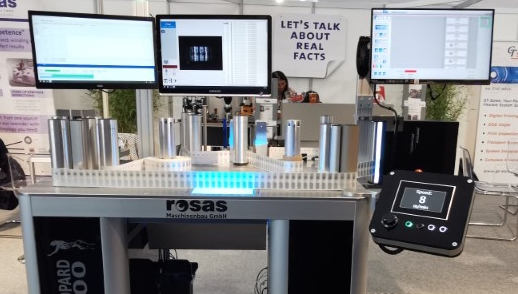 The RFID Efficiency Revolution: In-Line RFID Reading, Encoding, and Verification for Smart Label Production
November 13, 2023
In the fast-paced world of modern supply chains and retail, efficiency and accuracy are paramount....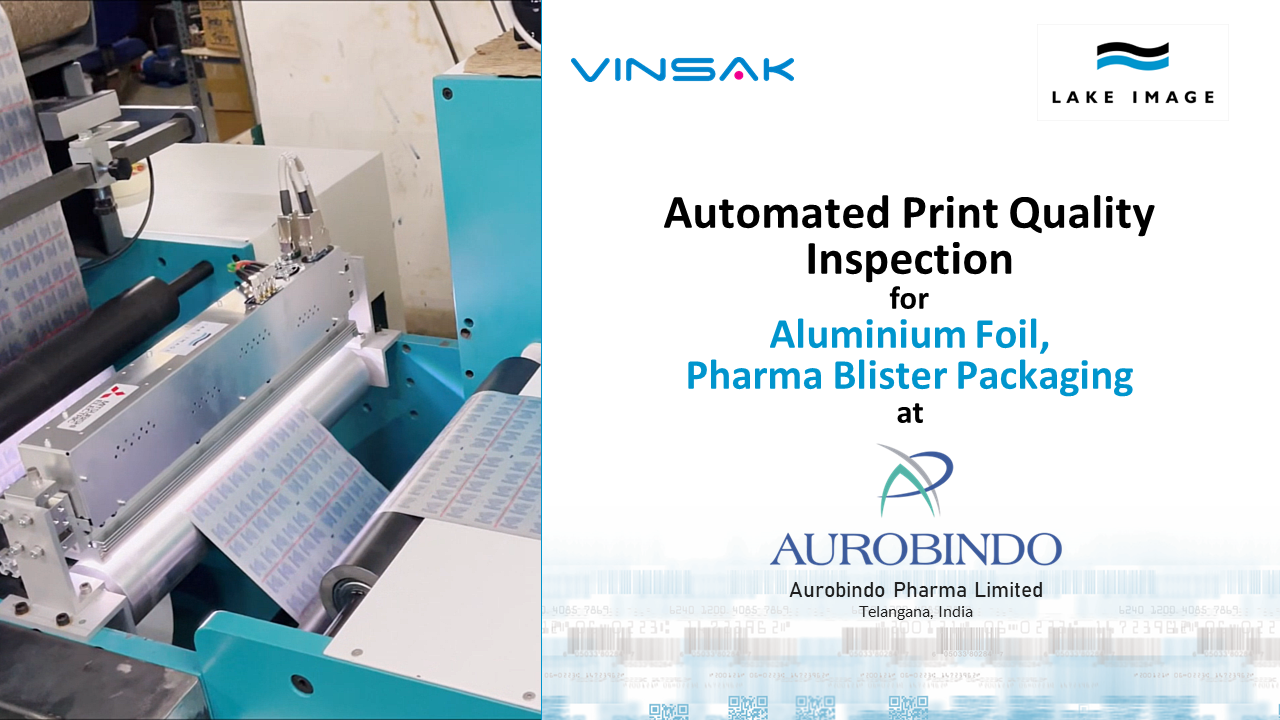 Lake Image Systems and Vinsak Installs a Print Quality Inspection System for Aluminium Foil Blister Packs at Aurobindo Pharma Ltd.
January 2, 2023
Lake Image Systems Ltd., in partnership with Vinsak India, is pleased to announce that they have...
Lake Image Systems Automate the Verification of ScanTrust QRcodes on Secure Packaging and Labels at REYNDERS
July 16, 2018
Lake Image Systems, a leader in delivering print quality inspection, variable data verification and integrity...