Lake Image inspects the next generation of barcoded postage stamps for Deutsche Post at Royal Joh. Enschedé
January 25, 2022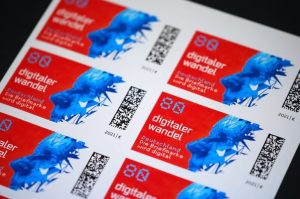 Lake Image Systems announce that it has implemented its in-line camera inspection system at the security printer, Royal Joh. Enschedé, to validate variable data matrix codes printed on the new, trackable postage stamp for Deutsche Post.
By printing a unique, two-dimensional data matrix code on every stamp, Deutsche Post can easily detect reused or forged stamps to prevent fraud, track a letter throughout its network, and provide customers new digital and philatelist services with the barcoded stamp.
In early 2021, Royal Joh. Enschedé were one of the few select security printers to print these revolutionary new stamps and selected Lake Image Systems and its parent company, Domino Printing Sciences to print and inspect the variable matrix code on every stamp during the production process.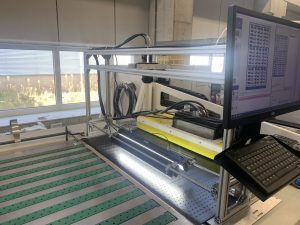 Domino implemented its K600i inkjet printing system to print variable matrix codes on sheets containing 90 stamps, whilst Lake Image implemented its DISCOVERY Multiscan3 camera inspection system to read, verify and grade every code according to the required specifications. Both systems were mounted inline onto a Mabeg sheet feeder, running at 2000 sheets per hour. If a variable matrix code on a stamp failed the inspection, the entire sheet is automatically diverted and discarded.
At the end of every run, DISCOVERY Multiscan3 produced a detailed report on the status of every stamp allowing Royal Joh. Enschede to check for possible duplicates and to generate a manifest file which would be sent to Deutsche Post. This file enabled Deutsche Post to release the stamps knowing precisely which codes were active and, more importantly, which were not.
We were highly impressed with the ease and simplicity of the Lake solution. The combination of the Domino inkjet printer with the Lake Image system worked perfectly together, and gave us a lot of flexibility to use multiple stamp layouts which we wanted," commented Frank Uitendaal, Operations Team Lead at Royal Joh. Enschede.
Only through constantly adopting cutting edge technology such as this, can we stay true to our guiding principles of delivering the highest levels of operational excellence and product quality, both necessary to maintain our reputation and to continue our long tradition as a leading security printer," said Gelmer Leibbrandt, CEO at Royal Joh. Enschede.
With our extensive expertise in the security print verification market, we have invested in the latest camera technology and have developed tailored inspection software tools to enable us to deliver the most comprehensive, targeted inspection solutions for our clients," said Martin Keats, Managing Director at Lake Image Systems. "Print inspection is now an essential component in reducing production costs and print waste, but more importantly, as more products have variable data printed on them, we help to mitigate the potential risks associated with unreadable or incorrect information, for both the security printer and the end client. We are delighted that Royal Joh. Enschede has chosen us for this critical part of their business."
DOWNLOAD PDFs