Lake Image Systems debuts a new, entry-level print quality inspection product at Label Expo 2019
September 17, 2019
Lake Image Systems is pleased to announce DISCOVERY PQExpress, a new, entry-level print quality inspection product for web printing, finishing, label converters and packaging print lines.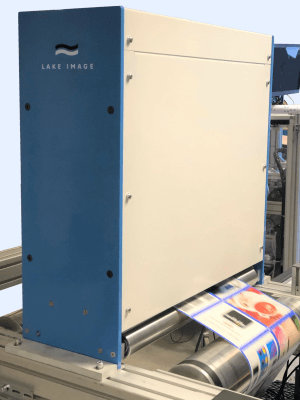 Utilizing Lake Image's renowned high-performance imaging technology, web viewing and automated defect detection technology, DISCOVERY PQExpress provides real-time viewing of 100% of the web and detection of missing labels, label matrix residue, die-cut errors, ink smudges & streaks, as well as detecting surface imperfections such as creases, bubbling and wrinkles.
DISCOVERY PQExpress will be available as a complete, competitively priced, packaged solution, including; inspection camera, lighting and web rollers all enclosed in a compact, robust housing for reliable and stable inspection operations. The unit is available in 3 widths for web widths of 330mm (13"), 430mm (17") & 530mm (21") and will operate at web speeds up to 350 m/min (1150 ft./min.). The system also includes a high-performance PC and a touch screen monitor, fully configured for fast installation.
We know there is a strong demand in the market for a reliable, intelligent and fully packaged print inspection solution, so we created this competitively priced product in response to customer feedback," said Martin Keats, Managing Director at Lake Image Systems. "Through 25 years of innovation, we have built a unique and flexible print quality inspection platform, which enables us to be innovative in all aspects of product development, and in all markets within the print sector."
DISCOVERY PQExpress will make its debut at the Label Expo Europe 2019 exhibition (booth 9B22), along with a wide range of print quality inspection and data verification solutions for the label and packaging industries.