Lake Image Systems Partners with Ross Manufacturing and HERMA to Produce an Integrated Labelling Machine with Automated In-Line Inspection
March 22, 2016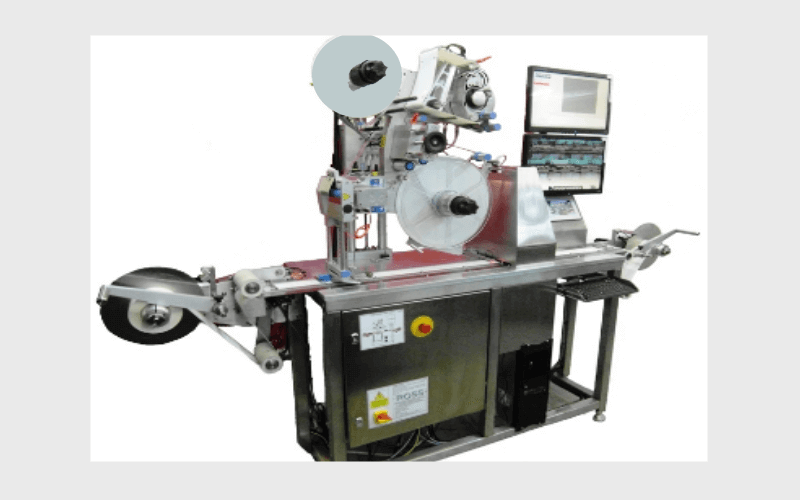 Lake Image Systems Ltd., in partnership with Swindon based Ross Manufacturing Ltd. and self-adhesive technology specialist, HERMA, is pleased to announce that they have developed a unique, integrated labelling machine which combines a highly flexible label transport system, a high-speed label applicator and an automated in-line inspection system.
The labelling machine has been successfully installed and commissioned at a major security printer to automate the production and inspection of secure labels.
Many authentication labels, vouchers, lottery and gaming cards have an added concealment feature to protect variable printed codes or images on the label from unauthorized individuals. However, verifying the concealment feature is applied correctly is commonly done manually or using a separate offline inspection system. This process is unreliable and can hugely increase production costs and extend delivery times.
The new, integrated labeling machine is the culmination of technology and expertise from 3 leading players:
Ross Manufacturing Ltd.: Has built a high-performance label transport which incorporates Ross's web tension dancer roller technology that continuously adjusts the tension to prevent web breaks when traveling in either direction. Together with Ross's overall system management software, the equipment can operate at speeds up to 250 meters per minute.
HERMA: As recognized leaders in self-adhesive technology, HERMA integrated their label applicator system to add a scratch-off label to conceal variable codes pre-printed on the security label. HERMA also lead the project on behalf of the end client.
Lake Image Systems Ltd.: Has integrated their high-resolution cameras and high-intensity lighting onto the labeller and deployed its Discovery Multiscan software to read and inspect every label. If Multiscan detects a label is out of sequence or has a misplaced scratch-off, then the type of error and its precise location within the roll is logged. At the end of the label run, Multiscan's "Make-up" routine rewinds the roll in the reverse direction and presents each faulty label in turn to the operator. The operator can either flag it as good or replaces the faulty label before the label is automatically re-inspected. This ensures all labels in the roll are always 100% correct.
"We believe the combination of in-line label application, inspection and label correction on a single device is a first in the industry" said Ross Baker, Owner of Ross Manufacturing Ltd. "The three-way partnership brought together the best brains and technology in the industry to create a truly unique labelling machine that has already delivered significant productivity gains for the end client."
"With the security labels market growing rapidly, we were delighted to be a part of this exciting new innovation," added Martin Keats, Managing Director at Lake Image Systems. "Our combined in-line inspection and "Make-up" process now guarantee that every label roll is 100% correct before leaving the equipment, reducing production costs and waste but also mitigating the potential risks associated with faulty labels for both the security printer and the end client."
DOWNLOAD PDFs