Lake Image Systems Wins a 2017 Must See Em' Award for the 4th Year Running
August 7, 2017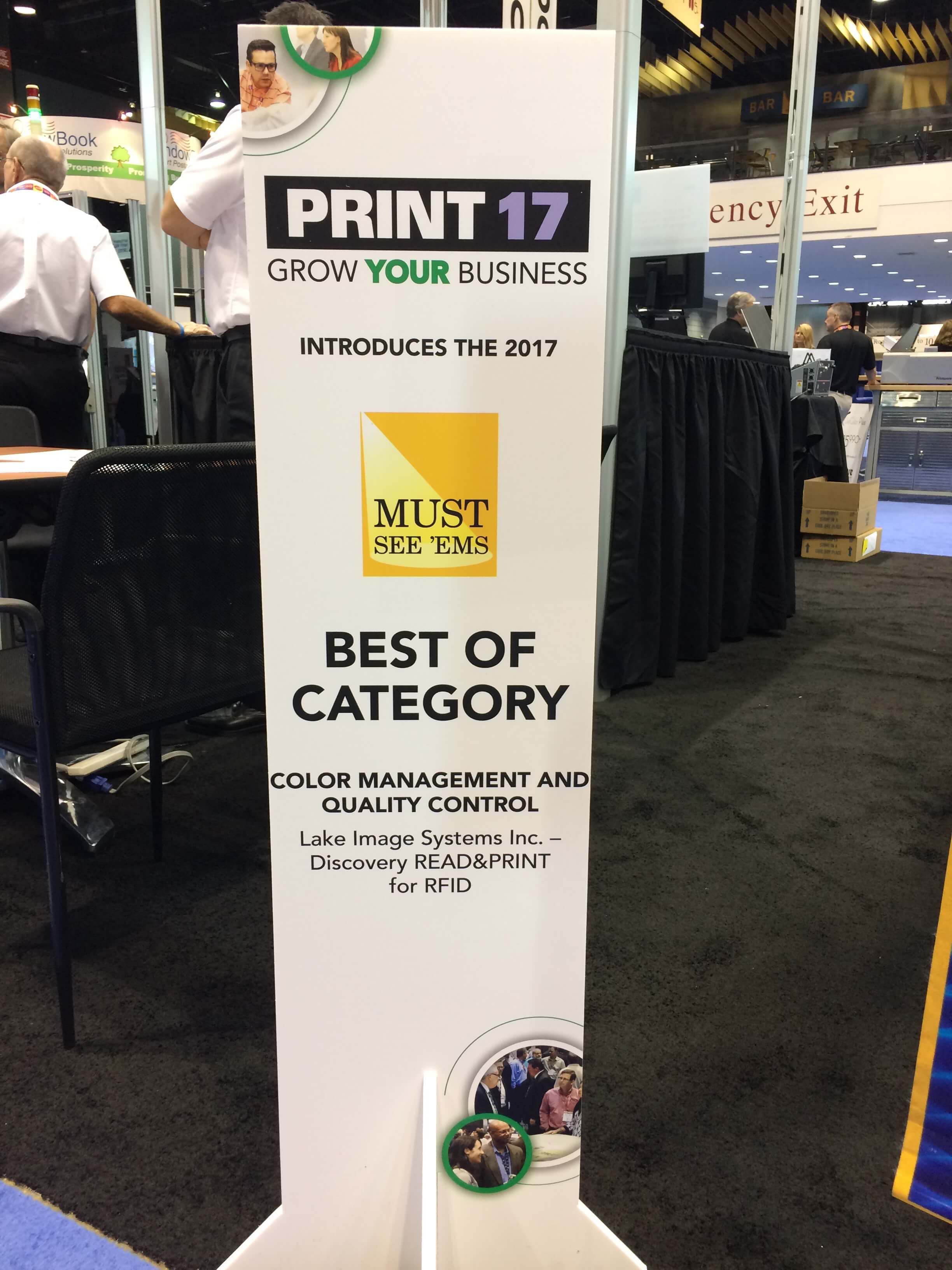 Lake Image Systems Inc., the leaders in data integrity, verification and print quality inspection systems, is proud to announce it is has won a 2017 MUST SEE 'EM award at PRINT 17, for the fourth year running. This year the award is for Discovery READ&PRINT for RFID Tags, a cost effective, inline, end-to-end RFID encoding and READ and PRINT integrity management solution for high volume RFID tag production. Must See 'Em awards are selected by a panel of industry experts, journalists and consultants who base their choices on the most compelling technology that will impact the industry in the coming year. Visitors to PRINT 17 are encouraged to seek out Must See Em winners and provides a valuable guide to all attendees.
As the unit cost of RFID tags continues to fall, high volume mailers, card manufacturers, label converters and packaging firms are investing in RFID technology to more efficiently track and trace items throughout the supply chain or to protect goods from counterfeiters, smugglers and other criminal activities.
When producing thousands of imbedded RFID tags and labels using multi-step mail, card, label and packaging production processes will invariably introduce errors that undermine confidence in the RFID technology and increase production costs. The Discovery READ&PRINT solution provides a single, automated READ, ENCODE, PRINT and VALIDATE process, ensuring that each RFID tag has the correct encoded information, matches the printed data and is 100% readable when it is attached to the product.
"We're especially proud and honored to win such a prestigious award again, now for the fourth year running. The award clearly reaffirms Lake Image as a highly innovative company, able to respond to the changing needs of our clients." said Scott Stevens, President of Lake Image Systems Inc. "With this solution, we have seen that high-speed RFID encoding and personalization lines demand a superior level of speed, accuracy and functionality that goes beyond normal vision inspection systems. Through our expertise and by using the latest high-speed RFID readers & encoders, alongside our high-resolution imaging has enabled us to meet difficult challenges that many of our competitors struggle to manage."
The RFID personalization and inspection process is remarkably fast and reliable, and is able to process thousands of items or labels per hour whilst maintaining 100% integrity at every stage. Defective RFIDs or printed labels are automatically identified, tracked and marked as "VOID" at the end of the line. Targeted RFID encoders and readers ensure that the signal from one tag does not interfere with another tag, enabling even faster throughput.
The solution is provided with all the required components – Discovery Multiscan, Discovery READ&PRINT and SQL database software, RFID's readers and encoders, inkjets heads, monitors, cables etc. with full installation and integration with production equipment, all at a low, affordable price.
PRINT 17 visitors will get a unique insight into how the Discovery READ&PRINT for RFID solutions can meet the integrity and print inspection needs of real-world RFID applications. Discovery READ&PRINT for RFID and previous winners of the Must See Ems award, Discovery Enterprise (2014), Discovery Maxscan (2015) and Discovery Roll Inspector (2016), will be shown at the Lake Image booth, #2263 during PRINT17, which takes place Sept. 10 – 14 2017, at the McCormick Place South, Chicago, USA.