DISCOVERY MSExpress is a compact and modular variable print data inspection product that is designed specifically for the OEM, reseller, and distributor market. Leveraging Lake Images' extensive expertise in print verification and camera inspection solutions, DISCOVERY MSExpress provides an affordable means of accessing Lake Image's significant and industry-leading expertise, streamlining companies' variable print inspection needs.
DISCOVERY MSExpress offers intelligent variable print inspection from simple code presence to variable print data verification using OCR and sophisticated code reading technology, and can also control printing presses and finishing equipment with operator alerts, diverts, and equipment stop functionality.
The system is available as a packaged product, which includes:
A GR2 industrial area scans inspection camera
A mini-industrial PC with ready-to-configure inspection software tools for OCR and barcode verification. Optional sequence verification checking tool available
LED lights, a camera trigger sensor, and necessary cables
Optional camera and lighting configurations are available for different substrates and fields of view, making it suitable for a wide range of industry sectors including mail production, label converting, packaging print lines, and security printing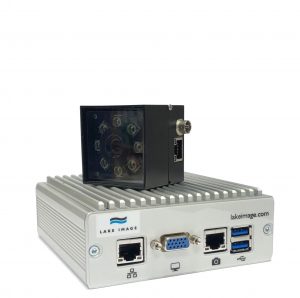 DISCOVERY MSExpress's flexible and modular design allows for easy customer self-installation and integration onto a range of equipment, making it an ideal solution for Distributors and Resellers to offer this capability as well as for OEMs looking to integrate this onto their equipment, as a cost-effective print verification option to their clients.
Key Features
Enhanced Print Data Verification: Accurate verification of variable print data, ensuring high-quality output and reducing errors.
Improved Productivity: Streamlined workflows and elimination of manual inspection, leading to increased productivity.
Cost Savings: Identification and prevention of errors in variable print data, resulting in significant cost savings.
Fast ROI: Affordable pricing and tangible benefits provide a quick return on investment.
Flexibility and Modularity: Easy integration into various equipment types, customizable for specific requirements.
Typical Applications
Mailing Industry: accurate verification of addresses, barcodes, and other variable data on letters, envelopes and postcards
Label Converting: inspect variable information on labels, including product labels, barcode labels, and packaging labels
Packaging Print Lines: Checks and verifies variable information, such as product codes, lot numbers, and expiration dates
Commercial Printing: Validates variable data printing for applications like direct mail, promotional materials, and personalized marketing campaigns
Financial and Transactional Printing: verify and validate variable data on financial documents, transactional statements, and invoices
Pharmaceutical and Healthcare Packaging: Ensures accuracy of variable data printed necessary to comply with regulatory requirements
Benefits
Enhanced Print Quality: DISCOVERY MSExpress ensures accurate and reliable verification of variable print data, leading to high-quality output and reduced errors.
Increased Efficiency: By automating print data verification processes, DISCOVERY MSExpress streamlines workflows and eliminates the need for manual inspection, resulting in improved productivity.
Cost Savings: DISCOVERY MSExpress helps reduce waste, scrap, and costly returns by identifying and preventing errors in variable print data, leading to significant cost savings for businesses.
Advantages
Fast ROI: DISCOVERY MSExpress offers a fast return on investment with its affordable pricing and tangible benefits, giving businesses an advantage over its competitors.
Versatility: With its modular design, DISCOVERY MSExpress can be easily integrated into various equipment types, making it suitable for a wide range of industry sectors and allowing customization to specific requirements.
Easy Installation and Support: The packaged product includes all necessary components, simplifying installation. Additionally, Lake Image Systems provides a full 1-year warranty and telephone technical support, ensuring a hassle-free experience for customers.