A leading, automated print inspection system, offering a suite of comprehensive print quality assurance and variable data integrity, verification & reporting software tools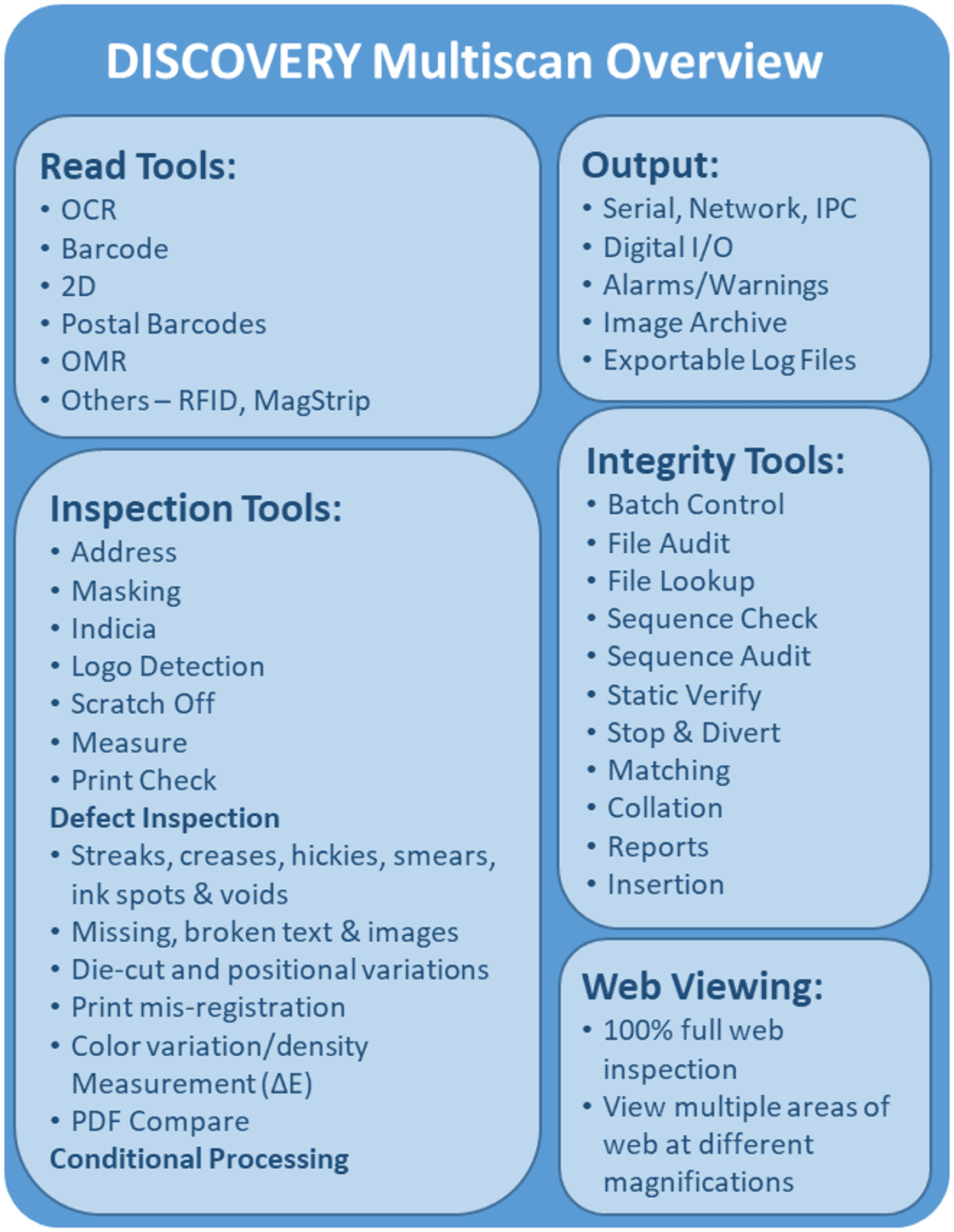 DISCOVERY Multiscan easily integrates with almost any high volume printing, inserting, bindery, plastic card or finishing equipment, running at full rated speed for automated, 100% print inspection. The software pulls together images and data from a wide variety of supplied camera and scanner-based technologies, including the Discovery Maxscan contact scanners.
These images are then processed using a comprehensive range of reading tools to detect, extract, grade and decode all forms of printed text such as barcodes, QRCodes and OCR codes within the images for subsequent processing by Multiscan's integrity, inspection, control, and reporting tools. Discovery Multiscan also offers a variety of print quality inspection tools to detect issues such as print registration, printing glitches, positioning, and color deviation to ensure the print is always within the required specifications.
If errors are detected then a wide range of actions such as diversion, audible/visible alerts, tabbing or roll-mapping for subsequent repairs can be employed, all with full reporting and audit trails.
Discovery Multiscan is perfectly suited for high-speed, high-resolution digital print applications where variable data validation and print quality inspection is more demanding. Reliable integrity assurance for a range of applications including mailpieces, labels, plastic cards, security whilst simultaneously providing 100% print quality inspection of every printed page.
Some of DISCOVERY Multiscan software tools :
Print Data Verifier: ideally suited for sheet-fed or web applications with defined repeats containing multiple variable printed fields on each item common on lottery, gaming, phone cards, tax stamps, and other security print applications. PDV compares all the variable data (up to 400 fields) on a sheet or web repeat to a data file and reports on any data errors, missing or duplicate sheets found during the production run. More
Barcode Grading: is a precise, barcode quality inspection tool, designed specifically to continuously determine the quality of variable data barcodes, being printed on documents, labels, cards, and packaging, at high speeds. The tool measures the characteristics of each barcode to industry standards (e.g. ISO/IEC 15415 & ISO/IEC 15416). More
Label Integrity Manager: ideally suited for multi-lane label production, where out of sequence, missing or duplicate data needs to be eradicated to ensure 100% integrity. Label Integrity Manager (LIM) tracks and collates information on each label in all lanes for accuracy and correct sequencing. Using the header information printed at the start of each label lane, LIM knows precisely the number of labels to expect in each lane as well as the start, end and the increment of the printed variable information to determine that the correct sequence. For random or non-uniform increments, the variable information captured can be matched against a lookup file or database to detect missing, duplicate or out of sequence labels. More
JETCHECK: ideally suited for all Inkjet Printing, JETCHECK provides a simple, yet powerful solution for automatically detecting blocked or defective inkjet nozzles. Through capturing a high-resolution image of a specified inspection test pattern printed by the inkjet head, JETCHECK analyses the scanned image to determine the precise location of defective inkjet nozzles. A detailed nozzle report (either 1 for defective or 0 for good for every nozzle) is created, which can be used by the inkjet controller software to update its print mask routines to compensate for blocked nozzles. More
Key Features
New 64bit OS, enables MultiScan to read and quickly process the extremely large (1GB+) images that are typically created by MaxScan and other high-resolution line scan cameras

Discovery Multiscan software tools read, control, inspect, verify, log, track and report – providing 100% quality inspection and print data integrity:

Reading, matching & barcode grading of a multitude of symbologies at high speeds for effective page to page sequence check, data matching and presence/absence, variable data verification including front and back duplex matching
Inspection tools detect print defects such as print registration, color deviation/density and print quality
Integrity tools such as Batch Control, File Audit and File Look-Up, verify that each and every printed item is produced with the highest levels of integrity compared to the original customer data job files

Discovery tools can be conditionally executed based on features or specific codes within the image or triggers in the data. This enables variable combinations of multiple tools for complex inspection tasks in variable, multi-page (repeats) applications. Discovery is the ideal choice if you are looking for industrial vision systems or a camera print inspection solution.
Typical Applications
Web Printing/Labels (offset, digital, narrow web presses & security printing) – Barcode grading, print quality inspection, streak/void detection, front/back web matching, variable data legibility, track & trace, missing/duplicate piece detection

Cut Sheet Printing (digital and traditional printing presses) – base stock verification, missing or duplicate piece detection. Duplex matching, file based integrity and variable data verification and process control

Bindery (stitchers, collators, booklet makers, folders, polywrappers) – Signature verification, signature matching, missing/duplicate detection, collation control (booklet makers/collators), tray/bundle sorting. Read & print personalisation

Plastic Card Processing (phone/loyalty card processing, card attachers) – Card/carrier matching, missing/duplicate detection, pin number verification and logging, scratch off verification, automated bundling/stacking, read & print personalisation

Mail Processing (inserting & addressing equipment) – Matching, IMB quality verification, static verification, collation & selective control, double, missing/duplicate piece detection, tray/bundle sorting. Read & Print applications

Fulfilment (manual and automated kitting) – Missing/duplicate kit detection, kit content verification, job level reporting
Benefits
Add intelligence, capability and life expectancy to legacy equipment
Consolidate production processes
Improve production efficiency
Lower labour costs
Reduce re-work, waste and spoilage
Enhanced accountability
Liability protection
Ensure SLA & customer quality requirements are met
Proof of production performance
Enterprise wide job reconciliation (ADF integration)
Advantages
Machine independent – Can be retro-fitted to most existing printing and finishing equipment
Fast – 64bit architecture enables conditional & parallel processing for today's high resolution, high speed, full colour inspection applications
Scalable – Adapts to changing customer requirements. Modular pricing
Reliable – Reading and matching of a multitude of symbologies at high speeds including names and full alphanumeric text
Flexible – Supports a multitude of verification & Inspection capabilities simultaneously on the same piece of equipment
Supported – Comprehensive maintenance contracts featuring remote diagnostics
Resources
DISCOVERY Multiscan Case Studies
More Case Studies
OpSec Security Inc
OpSec Security, Inc. is the market leader in fighting counterfeits for brands, transaction cards, government documents and currency. OpSec delivers a comprehensive suite of end-to-end solutions, including advanced physical security technologies, supply chain track and trace services, and online and e-commerce monitoring and analysis for more than 300 companies across industry sectors and 50 governments worldwide.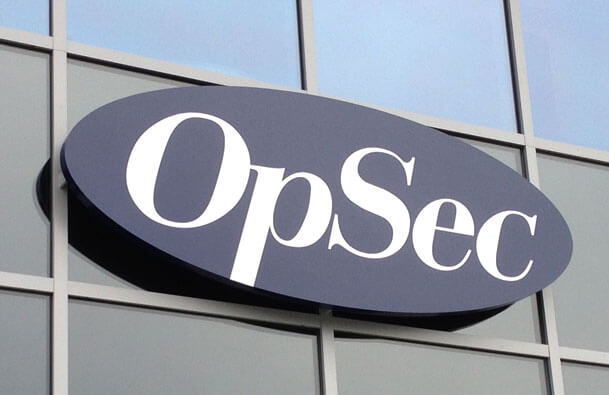 CUSTOMER PROFILE
OpSec Security, Inc. is one of the world's most comprehensive optical security company, protecting some of the world's largest corporations and governments.
Offers a comprehensive suite of end-to-end solutions, including advanced physical security technologies, supply chain track and trace services, and online and e-commerce monitoring and analysis.
Operates in the USA, UK, and Germany. Sales operations in the Americas, Europe and Asia.
SOLUTION SUMMARY
Implemented Discovery Multiscan 8K Line Scan Camera systems on all web platforms.
Multiscan RollSequence software was used to cross match label variable data to the original data file to ensure all labels are in sequence and automatically track and trace duplication, missing and unreadable labels.
Multiscan RollReview software allows OpSec's QC team to review errors off-line and generate a remake file based on human review.
BUSINESS CHALLENGES
Required a cost effective solution to verify variable data printed on security labels on existing label printing & finishing equipment.
All types of variable data formats including barcode, 2D and OCR printed on highly reflective holographic OVD could not be captured using existing inspection solutions.
Variable data must be cross matched against original data file to detect duplicates, out of sequence, missing or defective labels.
BUSINESS BENEFITS
Multiscan increased operational flexibility and efficiencies in producing labels – Lower costs
Multiscan can be bolted on any device – reduced capex requirements
Multiscan enabled OpSec to offer more sophisticated, secure label solutions – increasing competitiveness
Multiscan is an integral part of OpSec's SecureITT labels product and Xerox's eTRACS system, stimulating new market growth in Tax Stamp solutions.
"
The unique nature of our labelling solutions presents challenges not typically encountered by most converters and printers. The lake technology was the only system that could meet the challenges. In addition the systems was clearly able to adapt and develop to out increasing demands as our SecureITTTM product developed.
JIM KELLER, DIRECTOR P & PD, OPSEC SECURITY