In-line digital print quality inspection system for Web printers for 100% print quality assurance, variable data verification and job integrity.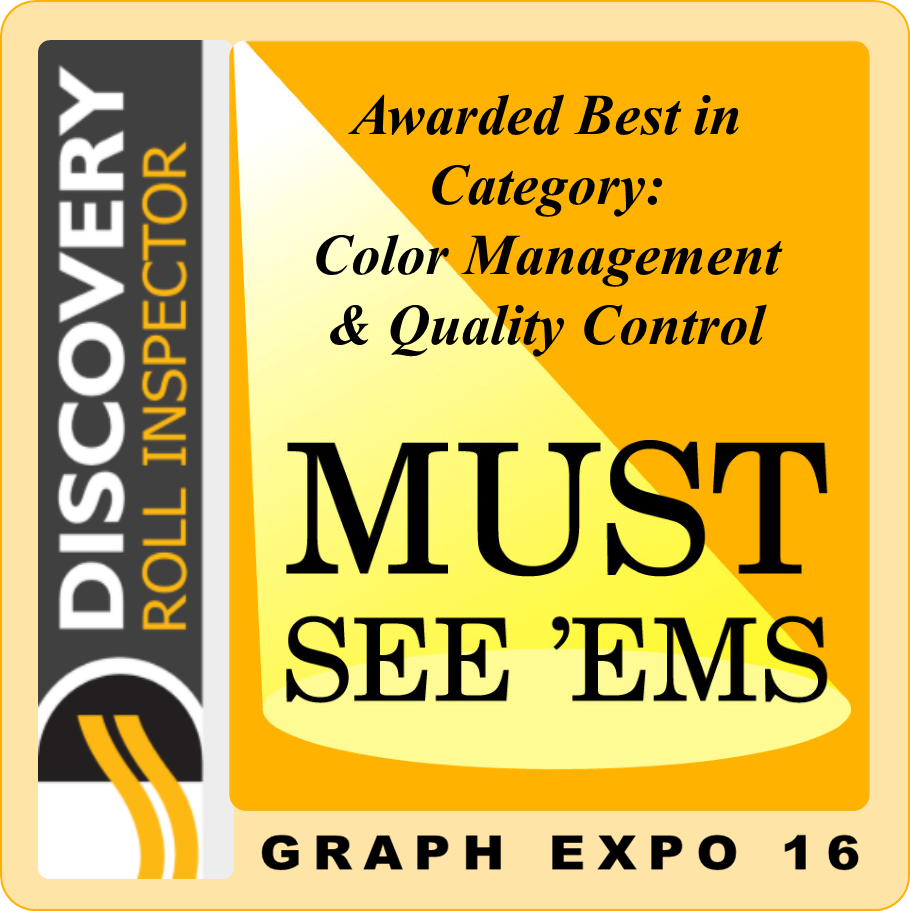 Pre-press and document composition tools can produce jobs where every page can be different from the next. Under these conditions, the operators stand little chance of detecting print defects which can quickly produce large amounts of waste. Any undetected and uncorrected error could result in expensive rejects, re-runs or worse, loss of future business! Also many digital web presses have no inbuilt inspection module resulting in the need for an offline manual or semi-automated inspection process, post-print.
The Discovery Roll Inspector is an inline, all-in-one, 100% web inspection system from Lake Image Systems. Ideally suited for laser and inkjet web printing systems, the Discovery Roll Inspector ensures all your printing meets the high standards required by your clients.
Key Features
Combined Data Verification and Print Quality Inspection

Discovery Roll Inspector utilizes sophisticated software tools to simultaneously analyse multiple areas of interest (AOIs) and apply multiple quality tests per page.
Performs highly complex inspection analysis for variable data printing applications that have no set, recurring, or predictable formats by combining multiple verification tests on a specific page as required. For example by reading a "page 1" marker, Roll Inspector can "conditionally" perform Address verification and validate the IMB code printed on page 1.
Instantly detect print defects such as ink spots, toner streaks, voids, color variations, and image/barcode quality issues. Check readability of barcodes, text, postal codes, and MICR lines as well as performing sequence, alignment, data verification, and matching verifications for a variety of highly complex, data intensive and variable documents

Un-interrupted inspection for multi-job print runs

Multiple jobs can be run continuously, one after another, without the need to stop the print line or any operator interaction
When a defect is detected, a zoomed in view of the defect is displayed and highlighted. An indication of the defect is given and the operator must view the image and declare it good or bad. The printer is NOT STOPPED unless the operator ignores too many defects, or the system is configured to stop after a set number of defects
All QC retained and defect images are stored with associated date and time stamp, machine ID, and operator ID. All images can be reviewed at a later date or when a customer wants proof of print quality

Complete, cost effective all-in-one solution

Available as a complete, all-in-one solution from one vendor
Roll Inspector includes a self-contained module with a PC controller, two large touch screen monitors (one for each side of the web), cameras, and lighting – all within a footprint of 4 feet (1.2m)
Handles roll-to-roll, roll-to-sheet, and roll-to-fanfold configurations
Collects inspection data for comprehensive management and performance reporting
Includes installation, training, and ongoing support to ensure all inspection requirements are met.
Typical Applications
Transactional & Direct Mail applications – Check every page for printing defects. Check and validate postal barcodes, MICR line and different page formats, images, logo, text etc.

Booklet applications – Check every page for printing defects. Check and validate barcode, QRcode or OCR text for readability, accuracy, correct sequencing, front and back matching etc.

Packaging applications – Check every packaging repeat for print quality defects, verify variable serialized numbers,  expiry dates and anti-counterfeit QR codes.

Pharma Leaflet print applications – Check every pharmaceutical leaflet, multi-up for print quality defects and compare every word, comma and full stop against master Image/PDF.

Label applications – Check every label (upto 16 across the web) for print quality defects Check and validate barcode, QRcode or OCR text for readability, accuracy and correct sequencing
Benefits
Less Scrap / Waste – Immediately alerts operators or stops press when defects reach a configured threshold, preventing costly scrapping of large runs of misprinted product
Improved Productivity – Automates labour intensive inspection processes, job set-ups and reporting
Lower Costs & Mitigate Risks – Prevents costly reruns and rejects and reduces business risks due to undetected defective print
Compliance – Ensures all jobs comply to client needs and government regulations
Increased Customer Satisfaction – 100% inspection meets requirements of large, demanding customers
Increased Revenues: Attract more customers and more complex, variable data work with full assurance that they will be able to handle the work with 100% accuracy and accountability.
Advantages
Machine independent – Can be retro-fitted to most existing printing and finishing equipment
Fast – 64bit architecture enables conditional & parallel processing for high speed web printed documents and labels
Scalable – Choose 3 configurations – View, Standard and Full
Reliable – 24/7 performance for uninterrupted, 100% inspection
All in One – Complete, all-in-one solution from one vendor.
Flexible – Supports a multitude of verification & Inspection capabilities simultaneously on the same piece of equipment
Supported – Comprehensive maintenance contracts featuring remote diagnostics