The RFID Efficiency Revolution: In-Line RFID Reading, Encoding, and Verification for Smart Label Production
November 13, 2023
In the fast-paced world of modern supply chains and retail, efficiency and accuracy are paramount. While Radio-Frequency Identification (RFID) technology has made significant strides in improving both these aspects, the reality is that it often coexists with the trusted and time-tested technology of barcoding. When combined effectively, these technologies create what is known as a "smart label," a powerful tool that can revolutionize how businesses manage their inventory and streamline their operations.
RFID inlay labels are poised for significant growth in the coming years, driven by several factors including:
Increasing demand for real-time data and asset tracking: RFID inlay labels can provide real-time data on the location and status of assets, which is invaluable for businesses in a wide range of industries. For example, RFID inlay labels can be used to track inventory in retail stores, pharmaceuticals in hospitals, and equipment in manufacturing plants.

Advancements in RFID technology: RFID technology is becoming more affordable and efficient, which is making it more accessible to a wider range of businesses. For example, new types of RFID tags are being developed that can read from greater distances and through non-metallic materials.

Growing adoption of Industry 4.0: Industry 4.0 is a major trend in manufacturing that is driving the adoption of RFID technology. RFID inlay labels are a key component of Industry 4.0 solutions, as they can be used to collect real-time data on the production process.
According to a recent report by IDTechEx, the global RFID inlay label market is expected to reach $14.2 billion by 2028, growing at a CAGR of 10.3% from 2023 to 2028. The report also identifies several key growth drivers for the market, including the increasing demand for real-time data, the growing adoption of Industry 4.0, and the development of new RFID technologies. Source: IDTechEx "RFID Inlays 2023-2028: Technology, Industry Analysis and Market Forecast"
Therefore, the adoption of RFID technology is on the rise, and it's easy to understand why. RFID offers real-time tracking, increased data accuracy, and significant time savings compared to traditional barcode systems. However, rather than replacing barcoding altogether, many companies choose to embrace both technologies to harness their complementary strengths. This blending of RFID and barcoding provides several distinct advantages that can increase availability throughout the supply chain while offering valuable backup information, ultimately enhancing production efficiency, and reducing costs.
Increased Availability Through the Supply Chain:

One of the standout advantages of combining RFID and barcodes is the ability to cater to the diverse technological landscape within the supply chain. Various stakeholders, from manufacturers to retailers, may have differing levels of RFID infrastructure and reader adoption. By incorporating both technologies into a "smart label," companies can ensure that critical information is accessible to all players, regardless of their technological readiness.
Manufacturers and distributors that have fully embraced RFID technology can leverage its time-saving and information-rich capabilities. Real-time inventory tracking, improved supply chain visibility, and reduced human error are some of the key benefits offered by RFID. Simultaneously, the eventual retail store, which may rely primarily on barcode readers, can still effortlessly scan and manage products without the need for relabelling. This interoperability ensures that the supply chain functions harmoniously, regardless of the individual participants' technology stacks.
Technology Redundancy for Enhanced Reliability:
While the reliability and durability of RFID technology are widely acknowledged, unforeseen circumstances such as chip damage or inaccessibility can occur. In such cases, the smart label employs a technology redundancy approach. Barcodes serve as a valuable backup resource, analogous to a fail-safe system. Just as the human-readable Universal Product Code (UPC) number on a damaged barcode allows manual access to information by entering the number, barcodes on the smart label act as a secondary means of retrieving essential data. This technology redundancy acts as an insurance policy, ensuring critical information remains accessible even in the event of unexpected RFID chip failures or damages, adding an extra layer of robustness to the data management process. It provides peace of mind to businesses relying on uninterrupted access to information.
The Need for Data Verification

An essential aspect of this combined RFID and barcode approach is the need for a robust data verification system. It is imperative to ensure that the data read or encoded on an RFID chip matches precisely with what is printed on the label as text or in the form of a barcode. Data accuracy is fundamental in modern supply chains, and any discrepancies can lead to costly errors and operational disruptions.
To cater to this need, Lake Image Systems DISCOVERY RFID offers a state-of-the-art verification solution for high-speed Smart Label Tag production. This system is designed to confirm that the data encoded on RFID chips aligns perfectly with the information displayed as text or barcode on the label. By incorporating such a verification system into the smart label production process, companies can guarantee data accuracy, enhance operational efficiency, and reduce the risk of errors in their supply chain management.
Achieving a Strong ROI
Return on investment (ROI) is a critical consideration in any business investment. The integration of Lake Image Systems DISCOVERY RFID into your smart label production line promises a swift realization of ROI. By reducing inspection costs, improving efficiency, and mitigating business risks, RFID label and tag manufacturers, printers, and converters can see a substantial return on their investment.
Lake Image Systems has established itself as a leader in delivering cost-effective RFID verification solutions for numerous business applications. Their offerings encompass:
Fully integrated RFID data read, encode, and verify with print data verification.
Variable RFID data verification and integrity inspection
In-line inkjet integration and OCR / barcode verification
Automated Missing/duplicate/mismatched Smart Label detection
Real-time mark, tab, or divert defective Labels and Tags
Accurate encoded data to file matching
Integration with Track & Trace systems
Full reporting and audit capabilities
The Discovery RFID systems are scalable, modular, and designed to seamlessly integrate within your RFID processing lines. Comprehensive maintenance and support contracts are available to ensure maximum system availability, long operational life, and futureproofing, making your investment a strategic asset for years to come.
Case in Point
Rosas Maschinenbau
We are excited to announce our latest DISCOVERY RFID integration onto Rosas' RFID label converting and serialization line! This advanced solution features Rosas' cutting-edge technology, including the Gazelle bidirectional rewinder, Bumble Bee RFID inserter, Leopard 300 rewinder with UHF RFID and NFC serialization, integrated with DISCOVERY RFID solution.
See the solution in action
The DISCOVERY RFID solution provides high-speed RFID tag reading and encoding capabilities and demonstrates an innovative end-to-end solution that not only encodes but also verifies RFID tags at high speeds. This sets a new benchmark for efficiency and precision in RFID label tag production.
Read more here as reported by Digital Labels & Packaging: https://loom.ly/CrtrpXQ
Tamarack Products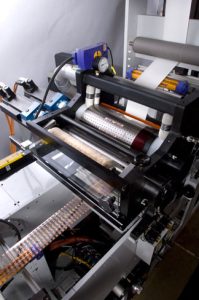 Tamarack Products has seamlessly integrated Lake Image's DISCOVERY RFID, Read & Print Technology into their RFID inlay production modules, including the P500 and RFID Extreme products. This integration, facilitated by Lake Image's DISCOVERY RFID, ensures real-time, single-pass RFID reading and encoding with inline inkjet label printing, tracking, and camera verification for automated, high-speed, and high-quality multi-lane RFID tag and label production.
This integrated solution allows printers and converters to manufacture fully inlaid RFID labels and tags, encode them with variable data, with synchronized inkjet label printing, all on a single device, with built-in error verification and RFID data to print matching.
Read the case study in full: Tamarack Products integrates Read&Print technology to read and encode RFID tags during inlay insertion
Conclusion
In the dynamic world of supply chains, efficiency and accuracy are the cornerstones of success. Smart Labels, a powerful integration of RFID-encoded data and traditional barcoding, is set to revolutionise supply chain operations by providing real-time visibility, enhanced inventory management, and streamlined processes. With the global RFID inlay label market projected to reach $14.2 billion by 2028, Smart Labels are poised to become the cornerstone of modern supply chain management.
Data validation stands as a critical aspect of Smart Label implementation, ensuring that the data encoded on RFID chips aligns seamlessly with the information displayed on the label. This alignment guarantees the accuracy, reliability, and accessibility of crucial product and asset information throughout the supply chain. Lake Image Systems DISCOVERY RFID emerges as a game-changer in this realm, offering a comprehensive data verification solution that elevates data accuracy and operational efficiency to unprecedented levels.
With its robust ROI and comprehensive support offerings, Lake Image Systems DISCOVERY RFID presents a compelling solution for businesses seeking to harness the transformative power of Smart Labels and elevate their supply chain management to new heights of efficiency and accuracy.